Exhaust Fan
(2155 products available)
Progressive technology has made our lives easy and healthy in many ways, just like exhaust fan used to by removing unwanted heat, humidity and odor. At Tradeindia, explore extensive range of exhaust fan, including solar fan, fan box etc. And details of trusted manufacturers, suppliers and dealers.
Explore Exhaust Fan Categories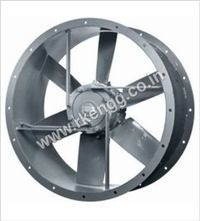 Minimum order quantity
1 Piece
R. K. ENGG. WORKS PVT LTD.
Mumbai, India... More

10 & 11, Building No.2, Ram Mandir Estate, Near Sharma Estate, Goregaon East, Mumbai, India
About Exhaust Fan
An exhaust fan plays a critical role for humans and industries. It is used to force humid, heat, moisture and unwanted odor out of a particular room or enclosed area. Due to its high-quality functionality, it's extensive range machinery is used in kitchens, bathrooms etc. Where moisture can build up due to activities like washing, bathing or cooking.

Features:-
1. High flow rate
2. Ventilation
3. Suction
4. Wide uniform air circulation
5. Deep pitched fan blades
6. Highly energy efficient
7. High cost savings
8. Low power consumption
9. Heating
10.Air conditioning etc.

Applications:-
1) Wind tunnels
2) Cooling towers
3) Residential
4) Restaurants
5) Power plant
6) Gas compression industry
7) Petrol chemical industry
8) Oil refining industry
9) Commercial
10) Industrial etc