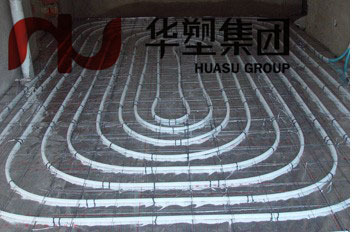 Pe-rt Floor Heating System
Get Latest Price
---
---
Product Overview
Key Features
PE-RT Floor Heating System is the abbreviation of Polyethylene of Raised Temperature Resistance. PE-RT is a kind of modified PE material which can bear higher hoop stress under high temperature. And this modification need not any process of cross linking which would employ many other additives companying with some possible risk in hygienic. And PE-RT material retains good properties of traditional PE material such as good impact resistance under lower temperature and fusibility. PE-RT floor heating piping system is a complete system solution for under floor heating, which is very flexible with lower modulus of elasticity and therefor has less expansion and lower expansion force. These characteristics have made PE-RT coils easy to be fixed and concealed. Socket fusion and electro fusion technology enables fast and safe repairing once damages on the coils occurs during home decoration. Metal fittings can be totally avoided in repairing and thus the repaired piping system has the same service life as original.

Characteristics:
1)Lightweight.
2)Excellent stability, long lifespan, more than 50 years.
3)Good impact resistance, highly safe.
4)Low brittle rupture temperature resistance to minus 70 Celsius.
5)Convenient for transportation and installation.
6)Excellent flexibility, no need to preheat under lower temperature
7)Safe and fast jointing with hot melting (fusion) technologyno need to change the whole pipe once damage on the coils occurs.
8)Good environment suitability.
---
Company Details
Established in 2001 , Liaoning Huasu Industrial Group Co.,Ltd has gained immense expertise in offering Plastic Pipe, Plastic Packaging Film, Tarpaulinresin etc. We are located in Panjin, Liaoning and providing Plastic Pipe, Plastic Packaging Film, Tarpaulinresin to the clients.
Business Type
Exporter, Importer, Manufacturer, Service Provider, Distributor, Supplier, Trading Company
More Products From This Seller
Explore Related Categories
Pe-rt Floor Heating System In Shuangtaizi District