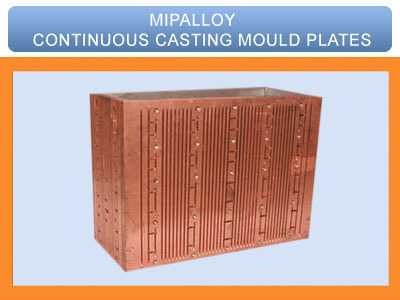 Continuous Casting Mould Plates
Get Latest Price
---
---
Product Overview
Key Features
Mipalloy manufactures Continuous Casting Mould Plates for steel plants & non ferrous mills. These Continuous Casting Mould Plates must rapidly transmit heat from the molten steel to the cooling water. The material has to meet a whole series of requirements critical to the casting process such as good thermal conductivity, sufficient hardness and resistance to wear & mechanical damage. Pure Copper or Silver Copper was the mould material until Chromium Zirconium Copper set the standard for continuous casting moulds. Only Chromium Zirconium Copper meets the demands for high quality, high casting speed economically.
Mipalloy with extensive experience in the line of high conductivity copper alloys is naturally the preferred supplier of such mould plates. Mipalloy regularly manufactures mould plates upto 2000 kgs. single piece weight as per customer sizes / requirements.
Mipalloy has been manufacturing Chromium Zirconium Copper for over twenty years & we have a thorough knowledge of the field. Mipalloy has two modern factories in the outskirts of Chennai having all mechanical manufacturing operations necessary for the product like casting, forging, rolling, heat treatment, special purpose machining etc.
---
Company Details
Registered in 2008 ,India Zoom Welddaids has gained immense expertise in supplying & trading of Copper, alloys, plastic medical syringe mould etc. The supplier company is located in Chennai, Tamil Nadu and is one of the leading sellers of listed products. Buy Copper, alloys, plastic medical syringe mould in bulk from us for the best quality products and service.
Business Type
Manufacturer, Supplier
Seller Details
Zoom Welddaids
Owner
Mr. Krishna Kumar
AddressView on Map
45 4, 11th Link Street, Nehru Nagar, Industrial Estate, Chennai, Tamil Nadu, 600041, India
More Products From This Seller
Explore Related Categories
Continuous Casting Mould Plates In Industrial Estate