Plastic Pallets
(852 products available)
TradeIndia.com is a one-stop source for buying the best plastic pallets online from verified suppliers, dealers, manufacturers and exporters. You can choose from a wide array of pallets including corrugated pallets,engine pallet,wooden pallet box,industrial wooden pallet, molded plastic pallets etc.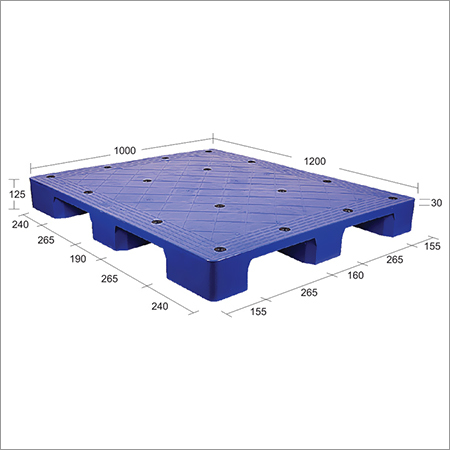 Slab Prices Available
1-100 Pack,
₹1,089.00/Pc
(₹1000 + 18% GST)
101-200 Pack,
₹2,089.00/Pc
(₹1000 + 18% GST)
201-300 Pack,
₹3,089.00/Pc
(₹1000 + 18% GST)
301-400 Pack,
₹4,089.00/Pc
(₹1000 + 18% GST)
Minimum order quantity
50 Piece
THE RISE ENTERPRISE
Vapi, India... More

Opposite Swaminarayan Gurukul, Ranavat Bhavan, Bhilad, Vapi, India
Plastic pallets

Plastic pallets are a flat transport structure that are majorly used for supporting goods in a stable fashion while they are being lifted with the help of a forklift, pallet jack, front loader etc. Generally made from HDPE or recycled PET, plastic pallets are ideal for handling and storage purposes owing to their features such as extreme durability, optimal resistance to chemicals, corrosion and weathering.
Plastic pallets can be easily sanitized and provide effective protection to the products stored inside. Plastic pallets are manufactured by various processes such as high pressure injection moulding, structural foam moulding, thermoforming, compression moulding etc.These pallets are very sturdy and free from excessive joints, hence, preferred over wood pallets for various industrial and commercial purposes. A steady increase has been noticed in their usage in recent years as these are low maintenance and economical.

Why are Plastic Pallets better in comparison to Wooden Pallets ?

1) Plastic Pallets have longer life span and better load carrying capacity.

2) Plastic Pallets do not splinter & are very dependable. These don't break off during shipping or transportation.
3) Plastic Pallets are light in weight and very easy to carry from one place to another.
4) Plastic Pallets provide complete protection to food items against bad odour. In conventional pallets made of wood, risk of bacterial infections is quite high and that's why wooden pallets aren't useful to ensure protection against bad odour.