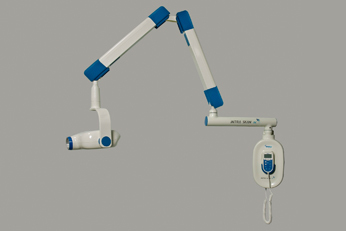 Intra Oral Dental X Ray System
Brand Name:
Skanray Technologies Pvt. Ltd.
Product Description
Features of Intra Oral Dental X Ray System :
* Wide input voltage range from 90 V to 265 V controlled by the unique Close Loop architecture with digital control technology enables the unit to be operated even in a tough rural areas of the world with fluctuating power situation
* The best in class Image Quality enables the clinician to make an informed clinical decision
* High Frequency design of 300 KHz digital generator produces superb image quality with very low dose and exposure time. This totally eliminates the harmful soft radiation that is inherent in conventional AC X- ray units.
* Intra Skan DC is designed with the Skanray patented X-Ray shielding technology that virtually eliminates the leakage radiation giving a safe environment for the clinician even in a continued usage at a busy clinic or hospital.
* The 'Drift-free' multi positional Scissor Arm gives exceptional stability, light and easy to handle, long enough to reach any position thus eliminating re-takes of X-ray and aid the accurate imaging. Also with the patented integrated small cone design the tube head is so small for easy positioning at complex angles.
* The intelligent design with Automatic exposure program for different patient and tooth and for short cone or long cone with user programmable settings to suit the different needs of the dentist.

Contact Details
Other Products You May Like
TOP