IC Card Manufacturers | Suppliers in India
---
What is IC Card (Integrated Circuit Card)?

IC Card, also known as Smart Card, is a mini plastic card containing a microcontroller, which are contact or contactless. A contact IC card can be distinguished by a set of golden electrical contact pads visible on it, which requires a card reader. A contactless IC card contains an antenna, using radio frequency signals to operate. Both the types can be printed with the issuer's artwork and information and can be designed in an attractive look as desired. Smart cards are often carried in wallets or pockets, which is a fairly harsh environment for a chip.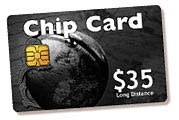 The IC card is the latest technological invention for 'advance in payment card ' , user authentication, and access control to computer systems.

Synonyms of Integrated Circuit
IC, Microcircuit, Microchip, Silicon Chip, Chip

Earliest History of IC Cards
Here is a chronological outline of the history of the invention of the IC card:

A German rocket scientists, Helmut GrA ttrup and JA rgen Dethloff invented the first chip card in1968 which was patented in 1982. The use of these cards started in France in 1982 for payment for pay phones
A Dr. Kunitaka Arimura of Japan filed the smart card concept in 1970
A Roland Moreno of France filed the original patent for the IC card in 1974, which was later termed as smart card
A Michel Ugon from Honeywell Bull invented the first microprocessor IC card In 1977
A Honeywell Bull patented the Self Programmable One-chip Microcomputer (SPOM) in 1978. Today, Bull has 1200 patents related to smart cards.
In 1981, Motorola produced the first "CP8" chip based on the Honeywell Bull patent.

There has been a series of milestones in the invention of various patents of the IC card thereafter. The major boom in smart card use came in the 1990s in Europe with the introduction of the SIM used in GSM mobile phone equipment.

Today, the number and variety of smart card-based applications have increased around the world.

Brands--in Joint Venture
The international payment brands of the IC cards include MasterCard, Visa, and Europay. In 1993, they collaborated to work together to develop the specifications for the use of smart cards in payment cards used as either a debit or a credit card. The first specification of the joint venture came into effect in 1994, followed by a number of versions, with the latest and updated being introduced in 2004. EMVco, formed in 1999 by Europay International, MasterCard International and Visa International, is the company that is responsible for the long-term maintenance of the system. This company upgraded the specification in 2000 and most recently in 2004.

Advantages of IC Cards
IC cards provide a means of effecting business transactions in a flexible, secure way without much manual intervention. Here are a few advantages:
A Highly secure, off-line processing
A They perform their own error checking
A Durability and long life span up to 10,000 read/writes before failure
A Support multiple applications
A Safe independent data storage (8K - 128K bit) on one single card
A User-friendly for easy interface with the intended application
A Susceptible to chip damage from physical abuse
A Information stored on the chip is difficult to duplicate or disrupt
A A well designed application can often complete an IC card transaction in one or two seconds
A A sign or verification of international standards

Applications of IC Card
Finance Sector: Electronic purse to replace coins for small purchases in vending machines and over-the-counter transactions; credit/debit accounts; securing payment across the Internet as part of electronic commerce

Airports: For access, security ID badges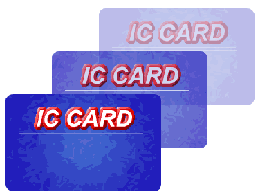 Communications: Secure initiation of calls and identification of caller (for billing purposes) on any global system for GSM phone; subscriber activation of programming on Pay-TV

Bars, Nightclubs: For preferred door entry, membership; VIP cards

Government Programs: Electronic Benefits Transfer to carry Food Stamp and WIC food benefits in place of paper coupons and vouchers; track quotas of agricultural producer

Information Security: Employee access cards with secured passwords; to employ biometrics to protect access to computer systems

Automobile Dealers: For dealer loyalty, discount, warranty; VIN ID cards

Golf Courses: For membership, bag tags, prepaid greens, ball dispensers

Real Estate: Business cards, telephone cards, calendar cards

Associations: Membership identification, point of sale (POS) discounts, calendar cards

Computers: For warranty, customer support, Internet access numbers, discounts

Physical Access Control: Employee access cards with secured ID; to employ biometrics to protect physical access to facilities

Car Wash: For frequency of car wash and pre-paid car wash

Transportation: Drivers licenses; mass transit fare collection systems; electronic toll collection systems

Retail and Loyalty: Consumer reward/redemption tracking

Dry Cleaners: For discount and to identify the frequent customer

Healthcare: Containing insurance eligibility and emergency medical data

Student Identification: All-purpose student ID card

Accountants: Business cards, client ID cards, promotions, calendar cards

Clubs: For membership

Shopping Centers: For frequent customer, discount and loyalty

Hotels: For discount, frequency of visits, key cards, employee ID badges

Restaurants: For promotion, discount, membership, loyalty, and preferred customer

Investment: Customer cards, calendar cards

Rental Services: For identification and preferred entry

Standard Certifications
IC cards conform to ISO 7816 and COS standards.

---