Sewage Treatment Plant
(1908 products available)
Ever wonder what happens to sewage waters: recycled or left isolated behind your back? Well, it gets treated under sewage treatment plant – enormously offered by TradeIndia with trusted manufacturers, distributors & wholesalers. Explore sewage treatment plant, including membrane bio reactors, effluent water treatment etc.
Explore Sewage Treatment Plant Categories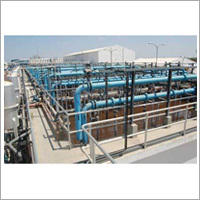 Minimum order quantity
1 Unit
The sewage treatment plant endeavours to treat municipal waste water containing contaminants, highly household sewage, commercial and industrial waste water (liquid from sinks, toilets, kitchens, showers and bath draining into respective sewers). It's aims to produce environmentally-safe & treated wastewater via physical, chemical and biological processes suitable for reuse, recycle and to be discharged to the environment. It serves purpose to clean the sewage waste water and make it useful for all kind of intended reuse and environmental use.

Features:-
Energy efficient blowers for aeration.
Integral flow management system.
High effluent quality standard.
Treat the water with the content of BOD and SS very efficiently.
Low ammonia standard.
Low power demand.
Corrosion-resistant
Recycling waste water.
Recreation of life

Applications:-
Commercial Use: Used to treat sewage discharged by commercial entities.
Domestic Use: Used to treat sewage obtained from community of people.
To control water, soil pollution.
To treat human wastes.
Contruction of sewage treatment plant vary due to state, local or federal regulations.

Uses:-
Sewage Treatment Plant is used to remove pollutants and suspended solids.
Used to breakdown organic matters (lawn clippings, green manures, food & water processing wastes, corn stalks & straw, manures and sludges).
Used to supply environmentally-safe & treated water.
Used to supply healthy waters to wildlife habitats.
Used to kill contaminants that include sediments and pathogens (viruses, fungi worms, bacteria, toxins, salts, heavy metals or fertilizers) to make it suitable for reuse.