School Uniform
(4476 products available)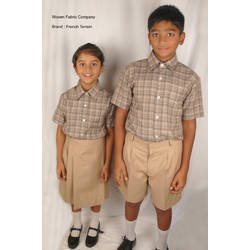 Woven Fabric Company is a renowned business entity working for this domain since 2004.
More
WOVEN FABRIC COMPANY
Mumbai, India... More

Unit No. 109-111, 1st Floor, Kailash Commercial Complex, Next to Everest Masala (Paper Mill Bus Stop), L.B.S Marg, Vikroli West, Mumbai, India
What type clothings School Uniforms are?
School Uniforms are academic garments with names, logos and prints which represent the schools. They are fabricated from synthetic and natural fabrics, come in all sizes & sleeve types and are designed in plain and check patterns.

School Uniforms can be worn across all age groups in both winters and summers. They involve School Shirts with collar, polo and round collars. Ties with plain and striped patterns. Pleated Skirts for girls and half & long pants for boys.

Purpose of School Uniforms in Schools:-

1) School Uniforms enable the students to dress smartly without investing much.
2) They make students feel to take proud with their looks.
3) School Uniforms allow to keep away from worry to find daily different outfits to wear
4) They do not create the thoughts about who is looking good as all are dressed same.
5) They bring unity and harmony among the students.

Why Tradeindia?

Tradeindia is an India's # 1 B2B marketplace that brings together the producers, manufacturers, wholesalers and dealers of School Uniforms with buyers.Apart from the above, you can also browse our comprehensive listings of School Uniform Fabric, Kids School Uniform, School Uniform Blazer and more for seller listings, best rates, and bulk buying.

Here, you can choose and shop on bulk from verified and trusted list of producers, manufacturers, wholesalers and suppliers of School Uniforms after checking their ratings, pricing, reviews and other variables.

Once you have shortlisted the Suppliers, you can send online business inquiries directly to the listed companies through SMS or by using Call Me Free service.