Portable Toilets
(678 products available)
Tradeindia has developed a comprehensive database of reliable manufacturers, suppliers and exporters offering durable Portable Toilets etc. You can choose from a range of Portable Toilets including Luxury Portable Toilets, Frp Portable Toilets, Portable Toilets Cabins, Portable Western Toilets etc.
Explore Portable Toilets Categories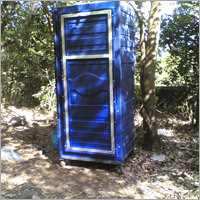 Minimum order quantity
1 Set
Open Style
Inward/ Outward
Use
Warehouse, Workshop, Other
Wall Materials
Steel, PVC panel
View More Details
FIBROL (INDIA)
Mumbai, India... More

B-19/104, Shiv Tirth Co-op. Society, Anand Nagar, C. S Marg, Dahisar East, Mumbai, India
Portable Toilets are widely installed for locations where permanent toilet facilities are not available by providing on rental. Their usage can be seen in special events such as family reunions, weddings, festivals, fairs and many other allied areas.

Portable toilets are facilitated with urinals, aluminum and tile chequered flooring, fresh water storage or holding tanks, water and sewage pumps, hot and cold water tap connection. Moreover, these mobile toilets provide superior service in and around construction and industrial sites both large and small.

Advantages of Portable Toilets:
1. Can be moved effortlessly from one place to another
2. Fully insulated and ventilated
3. Hygienic Portable Toilets
4. Easy to clean and use
5. Light weighted
6. Weather resistance
7. Reduction in Construction Time

Why Tradeindia?
Looking for the best quality of Portable Toilets or Mobile Toilets. Here at Tradeindia Portal, we are having reliable suppliers dealing with quality assured range of Portable Toilets including other related products such as Luxury Portable Toilets, Frp Portable Toilets, Portable Toilets Cabins, Portable Western Toilets etc.

You can go through the online catalogs of the provided Portable Toilets manufacturers and compare the prices, reviews, features and more at TradeIndia - India's most trusted B2B Marketplace! Once you have shortlisted the Suppliers, you can send online business inquiries directly to the listed companies through SMS or by using Call Me Free service.