Cotton Bed Sheets
(2405 products available)
Looking for most precisely processed and designed Cotton Bed Sheets that suit your tastes and existing home decor. Here at TradeIndia, you can grab the choice from a wide gamut of high quality Cotton Bed Sheets with unique patterns and awesome designs such as 3d Bed Sheets, Applique Bed Sheets etc.
Explore Cotton Bed Sheets Categories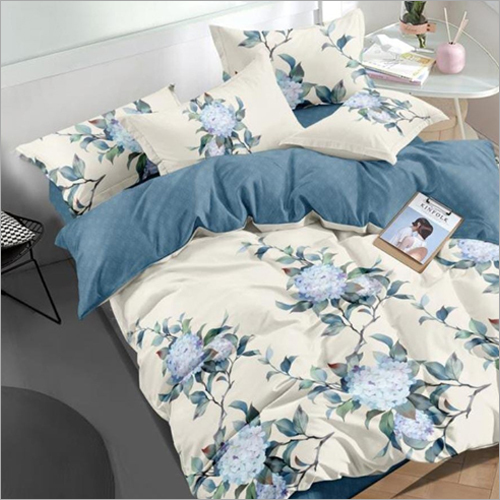 This has made our enterprise a trusted manufacturer and wholesaler of the Indian textile domain. .
More
J. P. Group
Fatehpur, India
1 Year

Member Since : 1 Year
Mobile Catalog:-
http://m.jpdecor.co.in/
Catalog:-
http://www.jpdecor.co.in/
Cotton Bed Sheets are made by processing cotton fibres making the bed sheets strong, long lasting and cozy to touch. Cotton fibres keep away the moisture and make the bed sheets breathable and comfortable.

These bed sheets come in single, double and king sizes and are ideal to tuck in below the bed not leading to any shrinkage.
With a wide range of colours, patterns and welcoming designs such as floral, abstract and geometric, Cotton Bed Sheets create a unique look for any type of home. They can be adjusted that best suits every relish and existing home decor. They can also be used throughout the year irrespective of any season.

Features of Cotton Bed Sheets :-
* Single, double and king sizes
* Come in Plain, Printed, Reactive Printed patterns
* Long-lasting and luxuriously soft
* Usable for all seasons
* Non allergic Material
* Easy to wash at home by machine or hands
* Pack Contents – Bed sheet with or without 2 pillow covers

Why Trade India?

TradeIndia.com is India's largest B2B market and it has a impeccable quality of Cotton Bed Sheets includingEmbroidered Bed Sheets, Block Printed Bed Sheets, Linen Bed Sheetetc.

You can get here the listings of provided Bed Sheets & Coversand compare their best prices, ratings, features and more. You can select the suppliers as per your requirements after browsing the listings of Cotton Bed Sheets suppliers.

Once you've shortlisted the suppliers, you can build a direct link and send them inquiries through the website or contact the dealers over phone, SMS and email.