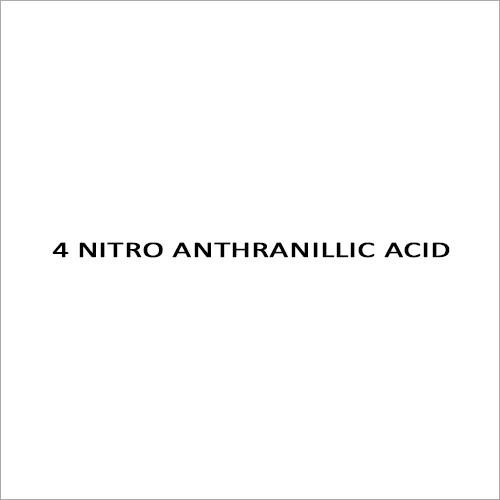 4 Nitro Anthranillic Acid
Accepts only Foreign inquiries
---
Get Latest Price
---
---
Company Details
Colors are as spectacular as diverse and play a pivotal role in influencing the actions and emotions of every living being on this planet. But, have you ever wondered what gives things around us their unique colors? Though physics plays its role but pigments and dyes that impart colours to objects cannot be left behind. Our ancestors relied on natural colors from flowers and other organic resources to color their stuff until the synthetic production of colors was introduced in the market, which revolutionized the industry of colorants forever. Ever since, businesses from sectors like textile, cosmetic, stationery, automobile, paper, paint and more, have been using pigments and dyes to color a variety of everyday essentials and materials.

At Gokul Eximp, every team member gets the ball rolling to introduce new hues for different applications. They work focusing on innovation that has been the fundamental key of our business since day one. We also manage R&D and modern manufacturing facilities in-house on this account. Giving equal weightage to quality, we consistently raise the bar of our product quality and overall work quality. As a result, Color Pigments, Fancy Dyes, Leather Dyes, Lake Colors, Printing Ink, Pigment Inorganic Dyes, Black Dye Basic Dyes, Yellow 2 Basic Dyes and other variants of dyes and pigments we offer enjoy great demand in the market.

We came into force as a manufacturing entity of Color Pigments, Fancy Dyes and several other variants of dyes and pigments almost 3 decades ago in the local markets of the Indian state of Maharashtra. However, today we stand tall as a global leader in the pigment industry.

When we managed to establish a strong foothold in the market through our modernistic manufacturing and quality-testing works, the amazing response that we received only made us realize that we can do even better. We then expanded our business functions and market operations by developing a supply chain network, globally, and making a noteworthy presence at an international level as an exporter of Printing Ink, Pigment Inorganic Dyes, Leather Dyes, Color Pigments, etc. Our expansion was not limited to scaling up business operations. Gradually, we began expanding our product portfolio too by adding more chemicals like Albendazole, Corn Starch, AcetamidoPhenol, Dyed Chemicals, Glucose Liquid, Cosmetic Chemicals, Betaine Anhydrous, Ampicillin, White Hi Optical Brightener, Tartrazine, etc., to it.

Company Partner

Mr. Rohit Agarwal, one of the partners of the company, is an enthusiastic entrepreneur who focuses on improving our work processes. With his unorthodox, experimental, innovative and progressive outlook, he has been continually guiding our employees and contributing to the betterment of our company. He supports us in building fruitful collaborations with our vendors, customers and other business partners.

Business Relations

We are not only the best because we offer the best quality Cosmetic Chemicals, Printing Ink, Colored Pigments, etc. There is more to us than meets the eye. We manage to build happy business relations with everyone we collaborate with, including clients, vendors, shareholders and other business partners because of the following reasons:
1. Putting partners first: We have always been considerate about the preferences of our partners. Prioritizing their needs is our primary motive.

2. Creating win-win situations: We aim to grow along with our partners because we believe mutual success breeds better profits and leads to a trusted brand image.

3. Providing additional value: We identify common grounds on with which we can provide additional value to our partners with the help of our resources, expertise, time and connections.

The True Meaning of Being Infallible

Every business has their moments of ups and downs. Challenges are always inevitable in any business. However, it is always about who overcomes those challenges and come out as a clear winner. Collaborating with Gokul Eximp has made many customers realize that being infallible is not only about never failing, but learning from mistakes made in the past and never making them again in the future. This spirit enables us to consistently improve ourselves at every business aspect, be it in terms of finances, production, research or marketing. A growth mindset is the main reason that we still retain a solid position as a manufacturer and exporter of Colored Pigments, Cosmetic Chemicals, Fancy Dyes, etc.

Manufacturing Excellence & Certifications

To be the best, one has to give oneâÂÂA ÂÂA s best. Believing in the same, we have set up the best manufacturing facility. From automatic to semi-automatic, the unit is outfitted with all types of resources to handle the manufacturing operations efficiently. With the dexterity of skilled labors, a few of our operations are also executed without involving any machinery. As a result, we never fail to deliver the best-in-class range of Printing Ink, Leather Dyes and allied products to our clients.

It is because of our manufacturing excellence and our ability to maintain authenticity in work that we were recognized by the Indian Government as a Star Export House in 2004. Besides, all the companies that are a part of the prestigious Agarwal Group including our business are accredited with ISO 9001:2008 certification.

Fact Sheet of Gokul Eximp

| | |
| --- | --- |
| Nature of Business | Manufacturer and Exporter |
| Year of Establishment | 1989 |
| Original Equipment Manufacturer | Yes |
| No. of Employees | 5 |
| No. of Production Units | 01 |
| Production Type | Automatic, Semi-Automatic and Handmade |
| Monthly Production Capacity | As Per Requirement |
| Company Location | Maharashtra, India |
| Importers/ Exporters Code | 0390013340 |
| Export Market | Worldwide |
| Export Percentage | 100% |
| No. of Employees | 05 |
| Warehousing Facility | Yes |
| Banker | Andhra Bank |
| Partner | Mr. Rohit Agarwal |
| GST No. | 27AABFG0674R1ZY |
| TAN No. | MUMG10207B |
| Annual Turnover | 12 Crore |
Business Type
Exporter, Manufacturer, Supplier, Trading Company
Working Days
Monday To Sunday
Seller Details
GOKUL EXIMP
Owner
Mr Rohit Agarwal
Member Since
6 Years
AddressView on Map
Office No-25-A, Juhu Supreme Shopping Centre, Gulmohar Cross Road, No. 9, JVPD Scheme, Mumbai, Maharashtra, 400049, India
4 Nitro Anthranillic Acid In Jvpd Scheme