Fast-Food
(3056 products available)
Explore More Categories
(24 products available)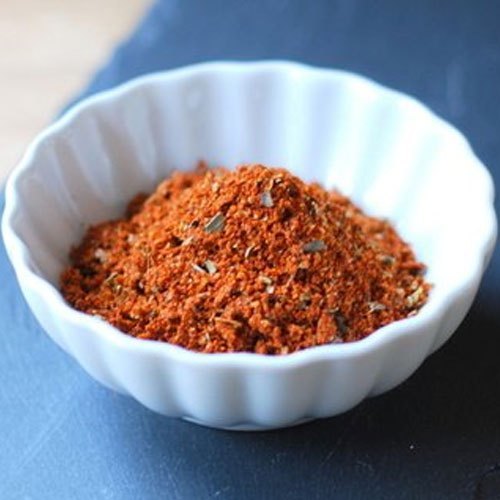 Slab Prices Available
1-100 Pack,
₹1,089.00/Pc
(₹1000 + 18% GST)
101-200 Pack,
₹2,089.00/Pc
(₹1000 + 18% GST)
201-300 Pack,
₹3,089.00/Pc
(₹1000 + 18% GST)
301-400 Pack,
₹4,089.00/Pc
(₹1000 + 18% GST)
Minimum order quantity
100 Kilograms
GOKHRU CORPORATE PRIVATE LIMITED
Indore, India... More

G-1, OLD 40,41,42, NEW 34,35,36 NANDLALPURA KALYANAM RESIDENCY, Indore, India
What is Fast-Food?
Fast food is food cooked in bulk and in advance and kept warm, or reheated when an order is placed. Many fast-food restaurants are part of restaurant chains or franchise operations, and standardized foodstuff is shipped to each restaurant from central locations.

Fast-Food in Various Regions--A Historical Brief
The history of the origin of the fast-food is as old as cities themselves. Here is a chronological account of the same:
There are records of ancient Roman cities having bread-and-olive stands

Noodle shops were a common feature in East Asian cultures

Flat bread and falafel were widely consumed in the Middle East

Popular Indian "fast" food delicacies include Vada Pav, Papri Chaat, Bhelpuri, Panipuri and Dahi Vada, which were and are still popular today

In the French-speaking nations of West Africa roadside stands sold a range of ready-to-eat, chargrilled meat sticks known locally as brochettes, which are still popular in the present day.
Modern History of Fast-Food
Carl Karcher is a pioneer in the fast food industry.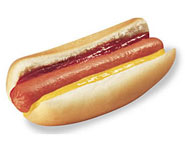 Born and brought up in in Ohio, he moved to Anaheim, California at the age of 24 to work at his uncle's factory. But he was not satisfied working in the factory as he dreamed to be prosperous and lead a great life. In 1939 Carl started his own business selling hot dogs on the street to customers from a cart as they drove up in their cars. Automobiles were popular during those days and hot dogs being served right inside the car made his business flourish to a great extent. Within five months after Carl bought the cart, he was able to buy a second one and opened a drive-in restaurant called Carl's Drive-In Barbeque. Later, he opened his own fast food chain known as Carl Jr.'s.
This new way of eating in the car became very popular and waitresses known as 'carhops' usually dressed very attractively delivered the food to each car.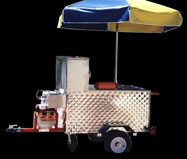 Jesse G. Kirby is another pioneer in founding the drive-in restaurant chain called "Pig Stand" in Texas.
A Drive-In Church in Anaheim, California, was founded by Reverend Robert Schuller. People could come to church on Sunday morning and watch the service on the big movie screen while being able to order and eat at the same time.
A brotherly duo, namely Richard and Maurice McDonald opened a drive-in restaurant in 1939 in California under the banner "McDonald's Famous Hamburgers". Growing tired of having to hire new carhops and short-order cooks all the time, they, in the 1940s closed the restaurant and re-opened a new McDonald's. No dishes, silverware or glasses were used and everything switched over to paper and plastic. McDonald's Self-Service process revolutionized the restaurant industry.
Fast-Food Calorie Chart
| | | |
| --- | --- | --- |
| Fast-Food | Calories | Amount |
| Cheeseburger | Large | 610 |
| Cheeseburger | Regular | 320 |
| Hamburger | Large | 520 |
| Hamburger | Regular | 275 |
| Fish, Battered/Fried | 1 serving | 210 |
| Chicken, Fried, Dark Meat | 2 pieces | 430 |
| Chicken, Fried, Wing/Breast | 2 pieces | 495 |
| Chicken Nuggets | Plain 6 | 300 |
| Sausage, Fried/Battered | 1 | 100 |
| Onion Rings | 8 | 175 |
| Fries | Large | 360 |
| Fries | Regular | 240 |
| Hash Browns | 1/2 cup | 150 |
| Corn Dog | 1 | 460 |
| Hot Dog | Regular | 240 |
| Hot Dog with Chili | 1 | 325 |
| Dressing - Caesar | 1 pkt | 160 |
| Dressing - French | 1 pkt | 160 |
| Dressing - Ranch | 1 pkt | 230 |
| Pancakes, Butter & Syrup | 3 | 520 |
| Desserts - Brownie | 1 | 245 |
| Desserts - Sundae, Caramel | 1 | 305 |
| Desserts - Sundae, Hot Fudge | 1 | 290 |
| Desserts - Sundae, Strawberry | 1 | 270 |
| Desserts - Apple Pie | 1 serving | 260 |
| Shakes - Chocolate | Regular | 360 |
| Shakes - Strawberry | Regular | 360 |
| Shakes - Vanilla | Regular | 360 |
List of Healthy Fast-Food
Grilled chicken

Fish sandwich

Whole-wheat rolls

Baked potato (with vegetables instead of cheese, butter or sour cream)

Fat free salad dressing

Low fat milk (double toned milk)

Low fat sandwiches (on wheat bread or on pita bread).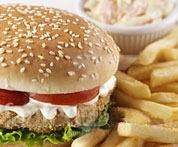 Fast-Food Restaurants
Small individually-owned fast-food restaurants have become common throughout the world, as the capital needed to start one is meager compared to other sectors. Customers can sit down and have their fast-food orders brought to them. Most fast-food restaurants are self-service centers where the customer is required to pay for the order first and then serve himself. These restaurants may or may not have sitting arrangements.

Indian Fast-Food
Bhelpuri

Bombay mix

Chaat

Dahi puri

Dahi vada

Dhokla

Kati roll

Murukku

Panipuri

Pav bhaji

Pohay

Ragda pattice

Samosa

Vada pav

Vadai

Vegetable sandwich

Wai-Wai (food).
The Fast-Food Trend
Fast-food today sells like hot cakes, especially amongst youngsters. It has occupied a prominent place in the list of top sought after foods in the world. It has become a trend today of going to a restaurant for fast-food for the purpose of mid meal snacking. The reason for the increasing consumption of fast-food is that it is readily available, quick to make and easy to serve. Fast-food is generally high in terms of calories, and therefore, it is not advisable to consume them in larger quantities.
Common Fast-Food or Snack-Food Items
Traditional Snack Foods

Wheat Pellets

Noodles

Read to Fry Snacks

Canned Vegetables

Frozen Vegetables

Frozen Parathas/Roti/nan

Frozen Snacks

Frozen South Indian Snacks

Cornflakes

Wheat Flakes

White Oats

Fatless Low Calorie Diet Health Food

Indian Dry Snacks and Namkeen.
Equipment and Appliances for Fast-Food
Display Counter

Kitchen Equipment

Softy Ice Cream Machine

Softy Ice Cream Machine with Pump, Gravity and Ripple

Milk Shake Machine

Milk Shake/Slush/Beverage Dispenser Machine

Ice Cream Machine

Gelato Machine (Batch Freezer)

Easy Chef/Baby Chef

Topping Bar

French Frier

Sandwich Griller Machine

Convection Oven Machine


Pizza Oven Machine

Chocolate Warmer

Waffle Cone Maker

Food Warmer

Dish Warmer

Hot Dispenser

Ice Cube Maker

Bar-Be-Que

Idly Steamer

Tea Coffee Dispenser

Potato Peeler

Griller

Deep Fat Fryer

Vegetable Cutter

Dough Kneading Machine

Work Table Sink, etc.