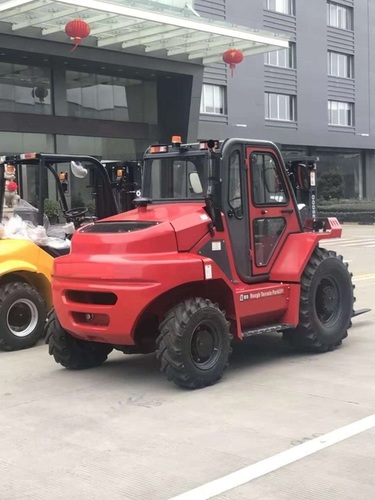 Rough Terrain Fork Lift Lifting Capacity: 1-10 Long Ton
---
Get Latest Price
---
Supply Ability
60000 Per Year
---
Delivery & Payment Options
Letter of Credit (L/C)

Telegraphic Transfer (T/T)

Western Union

Others
Product Overview
Key Features
Xiongyuan Rough Terrain Fork Lifts (RTFLs) are a reliable, versatile and easy-to-use solution. Perfect for virtually any rehandling environment from docks to yards, special events, timber forestry, construction sites and builders merchants, our RTFLs are designed for high mobility and superb productivity in rough terrain area.

Features
Our RTFL is powered by our world-renowned efficient Dieselmax engine.
An innovative transmission system provides fast directional changes, great performance and superb traction.
Durable, efficient and ergonomic, JCB RTFLs are designed for productivity, pure and simple.

Features
4.4-litre EcoMAX T4 Final-compliant engine with low-end power and torque
No exhaust after-treatment required
Powerful and versatile hydraulics package
3.6 6.7 m mast choice
Built to high standards for long-lasting productivity
Comfortable, safe and easy-to-service

Transmission system: hydraulic forklift used by the foreign advanced technology and manufacturing of hydraulic torque converter with power shift gearbox, CVT, in a more complex case of automatic variable pitch, forklift without shift, the engine is not Hold the car, do not turn off.
Low noise, low emissions, low fuel consumption, compact structure, high reliability, high intake air intake system with high efficiency cyclone-type air filter, low noise, low power consumption, low power consumption, Can effectively prevent dust inhalation, improve the service life of the engine.
Turn the system: the use of transverse steering axle, a small diameter, no need to adjust the steering angle, easy maintenance.
Frame system: the use of foreign applications in the forklift of the advanced full-floating cab safety rack, significantly reduce the cab noise and forklift truck on the ear of the bad feeling of vibration, improve the comfort of the driver and control forklift.
Hydraulic system: an integrated multi-way valve, set to steering, shunt function in one, reducing the pressure in the system and flow loss.

Features :
1. Full hydraulic transmission control with torque converter, one pedal is accelerator, another is brake.
2. Exclusive drive and drive steer axles can be able to bear more weight, we designed and produce for our own forklift.
3. Two or four wheel drive are available.
4. Wheel-side reducer is equipped, few manufacturer do it even if it is very good because of high cost.
5. Caliper disc brake of four wheels is more safe.
6. Ground clearance: 320mm
7. Smallturning radius reduces working space requirement.
8. Max.travle speed of unload: 36km/h.
9. Max.gradeability of laden: 35-40%
10. Counterweight is full iron, not cement.

Options:
Luxury cabin with A/C or heater, electric control shift.
American Cummins, Kohler engine.
Japanese Isuzu, Yanmar engine.
Chinese Xinchai/Yunneiengine.
Side shift, fork positioner.
Folding type head guard, Total weight can do less than 2200mm.
---
Product Details
Main Domestic Market
All India
Company Details
Laizhou Xiongyuan Machinery Sales Co., Ltd. is located in Laizhou City, Shandong Province, the largest production base of construction machinery, construction machinery and agricultural machinery in the country. It has beautiful scenery and traffic, Nantong Qingdao, west to Weifang City, north to Bohai, Dongtong The Yellow Sea has a unique geographical location. The company was founded in 2008. The company is a research and development, manufacturing and sales, industrial and trade integration company for domestic and international network promotion. The company takes the cooperation and win-win as the leading, honesty, enterprising, self-improvement and innovative business philosophy. The responsibility, enterprising corporate culture, the largest and most professional online and offline operation of Laizhou Pilot Edition, and finally the group company integrating production, supply and marketing. The company adheres to the principle of cooperating with high-tech, high-quality and high-performance enterprises in the industry, and launches six series of top-level products of six series at the international level, using domestic and international high-end network promotion platform to establish and sell efficiently and quickly. Star service system before, during and after sales, company & ldquo; people-orienteda Development strategy. General Manager Han Chensong invites friends from all walks of life to join hands to create brilliant!
Business Type
Exporter, Manufacturer, Fabricator, Producer
Working Days
Monday To Saturday
Payment Mode
Cash in Advance (CID)
Seller Details
Beifang Xiongyuan machinery Co.,ltd
Owner
Mr David Wu
AddressView on Map
Shahe development zone, Yantai, Shandong, China
Rough Terrain Fork Lift In Shahe Development Zone