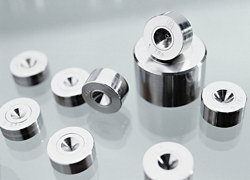 Jiangsu Dawn Wire Drawing Dies
Get Latest Price
---
---
Product Overview
Key Features
TC has indefectible advanced specialized skill to manufacture Wire Drawing Dies.
TC believe our dies are plain, hardness, durability and suitable for high-carbon steel wires, tire cords, soft golden, sliver, tube and bar wires. The dies from TC can reach the strict demands of customer.
TC can provide shape dies, such as hexagonal, square, and round dies. The production range which we can make for round dies is the diameter from 0.02m/m to 34.00m/m.
Natural & Tinned Diamond Dies (ND)
Natural diamond dies and mono dies is the best choice for drawing fine wires, golden wires, alloy wires and wires which need the delicate and brightness surface.
TC individually select premium diamond ores free from cracks and impurities. According to the crystallized orientations of diamond ores, the excellent sintering technique applied is to reach the best durability and hardness (about 60 HRC) and to intensify the resistance to wear and to protect diamonds to prevent crack. It can keep our diamond dies have the best quality and longevity.

Synthetic Diamond Dies (PCD)
Synthetic diamond dies are used for tube wires and wires; their durability, hardness is the best choice for the special requests of die hold. TC dies are sintered with high pressure and low temperature to effectively strengthen the surface of the die blanks with metal powder, above 52 HRC, to form a protective layer to enhance the durability.
---
Company Details
Established in 2008 ,China Jiangsu Dawn International Trading Co., Ltd. has gained immense expertise in supplying & trading of Parts for wire drawing machine, wire drawing dies, wire drawing capstan etc. The supplier company is located in Suzhou, Jiangsu and is one of the leading sellers of listed products. Buy Parts for wire drawing machine, wire drawing dies, wire drawing capstan in bulk from us for the best quality products and service.
Business Type
Exporter, Manufacturer, Trading Company
Jiangsu Dawn Wire Drawing Dies In Yangshe Town