With regard to the dynamism in the cement industry, Cement Packing Machines are indispensable pieces of equipment. Cement is a vital construction material that is employed in numerous building projects around the world. As such, cement packaging machines play a key role in facilitating secure, organized, and efficient transport as well as storage of cement. The use of specialized machines has modernized the cement packaging process and made it more efficient and accurate. The following blog discusses Cement Packing Machines in detail and gives insight into top suppliers and exporters of Cement Packing Machines.
What is a Cement Packing Machine?
The cement packing machines are used for the bagging of cement meant for storage and transport purposes. Cement packaging plants mass-produce tons of the product, which is packed by these machines. They are typically found in cement packing plants. The cement bag packing machines consist of three components: a balance scale, a packing machine, and a belt conveyor. A weighing system measures the cement. This way, it guarantees that one bag of cement will weigh exactly the same and have the exact right amount of cement. Then a bagging machine helps fill each bag and finally seal it off. Palletizing machines, together with the help of the conveyor belt transfer the sealed bags onto it. The palletizer helps in stacking the bags onto the pallets, which makes storage and transportation more comfortable and convenient. They offer various types and configurations of these packaging machines such as the valve type, open mouth, and bulk bag filling systems. Additionally, these machines can be fitted with other features that include bag counters and dust collectors as well as bag conveyors, making the packing of cement safe and efficient.
How Do Cement Bag Packing Machines Operate?
Cement bag packing machine is an important equipment in the cement industry. They are referred to as automated bags packing devices for cement and they facilitate the packing into bags of cement for storage and transportation. Its operations involve several steps in general.

The machine is filled with empty bags that are made of strong and tough materials such as woven polypropylene. The bags are placed upright for filling convenience.
The cement is then poured into the machine via a filling spout or hopper. The machine's weighing system ensures accuracy in determining the exact amount of cement put in each bag. The required accuracy in this case is critical to fulfill the prescribed weight and have reliable end products.
The bag clamp of the machine keeps the opening of the bag secured to avoid any flow of the cement outside the bag. The filled bag is then clamped until it is filled to the desired weight at which point it is released and moved away from the filling area.
Filled bags are usually sealed from this point, depending upon the particular type of machine design, either by sewing, heat-sealing or by using an adhesive tape. Afterward, they are sealed and can then be stored or transported.

Some sophisticated Cement Bag Packing Machines comprise extra functions such as bag stacking, palletizing, and labeling which increase the efficiency and automation of the packaging procedure. The Cement Bag Packing Machine is a vital component in maintaining the quality and uniformity of cement products, as well as enhancing the efficiency of packaging of cement products in Cement Plants.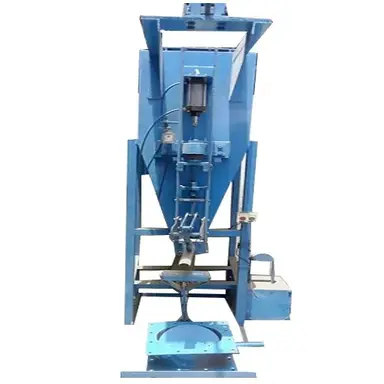 Cement Packing Machine
View Product Details
Top 10 Cement Packing Machine Manufacturers, Exporters & Suppliers in India
Aprotech Engineers Pvt. Ltd.
Aprotech Engineers Pvt. Ltd. is a company offering precise and efficient packaging solutions for the construction industry. This Faridabad-based company is one of the leading manufacturers, suppliers, and exporters of a wide range of packaging solutions like Volumetric Screw Feeders, Cement Packing Machines, Rice Packing Machines, Gravimetric Screw Feeders, Double Spout Packing Machines, Single Spout Densified Feeders, Double Spout Densified Feeders, Gravity Feeders, Densified Feeders, Vibratory Feeders, and many more.
Sigma Instrumentation
Sigma Instrumentation is a company based in Ahmedabad, that has earned the reputation as the leading manufacturer due to their commitment to providing the best products. They offer a vast array of products including Material Handling Systems, Valve Bag Packing Machines, Soya Packing Machines, Soya Nuggets Packing Machines, and other Machinery like Filling Systems, Packaging Machinery, and Industrial Stitching Machines.
Pharma Packaging Technology
Pharma Packaging Technology is reputed as one of the most efficient manufacturers, suppliers, and exporters delivering unique packaging solutions for the pharmaceutical sector. Using up-to-date technology they ensure the packed product is done according to the rigorous requirements for quality-conscious companies. They offer a line of Packing machines, Automatic Packing machines, Fully Automatic & Semi Automatic Fill Seal packs, Candy Pillow Pack machines, and Vertical Pouch Packaging machines.
Priyanshi Fabricators & Engineers
Priyanshi Fabricators & Engineers is a prominent company in the fabrication and engineering sector. They are ranked among the top manufacturers, suppliers, and exporters and have expertise in developing custom solutions for different markets while manufacturing top-quality products with the latest technologies. These include bag-filling machines, Jumbo Bag-filling machines, Belt conveyor systems, Belt weighing systems, Dynamic moving conveyor weighing systems, Weighing base batching systems, and Industrial plant automation services.
Vista Technopack Machines
Vista Technopack Machines, a Mumbai-based company is proving itself a major manufacturer, supplier, and exporter of packaging machines. The company's latest technology covers numerous industries providing the efficiency of such packaging machines as Automatic Liquid Filling Machines, Sealing Machines, Shrink Wrapping Machines, Tube Filling Machines, and Powder Filling Machines.
Unique Packaging Machines
Since its establishment, Unique Packaging Machines has been associated with innovativeness in the packaging sector. They offer a comprehensive array of machines, optimized for packaging operations so that efficiency and accuracy can be achieved in various applications. Their products include Pouch Packaging Machines, Packaging Machines, Pick Fill Machines, Multihead Weigher Machines, Filler Machines, Liquid Filling Machines, and many more.
Samnav Technologies
Samnav Technologies is a company based in Ghaziabad that provides automation solutions for several industries. They are ranked among the best manufacturers, suppliers, and exporters due to their vast variety of products including Material Handling Machines, Industrial Packing Machines, Silo Extraction Systems, Valves, and Other Industrial machines and Equipment.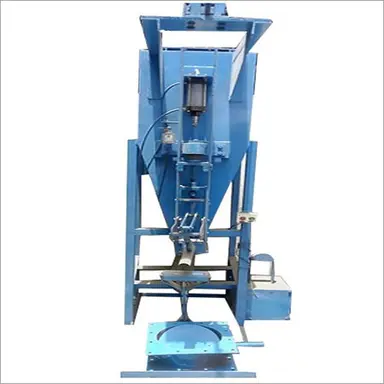 Semi Automatic Cement Powder Packing Machine
View Product Details
Despro Technologies Pvt. Ltd.
Despro Technologies Pvt. Ltd. is one of the most trusted companies in India offering complete designing and engineering solutions like heavy-duty material handling equipment for various industries like construction, cement, chemical, and steel. Their wide range of products includes Bucket Elevators, Gates, Packing Machines, Diverters, and Kiln Anchors.
Vegam Engineers Private Limited
Vegam Engineers Private Limited has earned a reputation as one of the top manufacturers, suppliers, and exporters of packing machines. They are committed to offering the best products and fulfilling the packing needs of various industries. Their wide range of products includes Flour Screw Feeders, Cement Electronic Packing Machines, Automatic Fertilizer Packaging Machines, Industrial Fly Ash Packing Machines, Powder Bag Packaging Machines, and Single Spout Electronic Packing Machines.
Edi Enterprise Pvt Ltd
Edi Enterprise Pvt Ltd is a prominent player in the packaging machinery industry. They provide various state-of-the-art in packaging solutions to address the dynamic demands of markets internationally. Their products include Weighing and Bagging Controllers, Cone Blenders, Truck Loading Conveyors, Conveyor belts, Material Handling Solutions, Industrial Automation, Packaging Machines, Bagging Machines and Systems.
FAQs: Cement Packing Machines
Q. What are the various kinds of cement mixing machines?
Ans. There are several types of Cement Packing Machines such as valve bag packers, open-mouth baggers, bulk bag fillers, etc. Each kind has been designed to meet various packaging needs thus making the process of cement packaging flexible and efficient.
Q. What are the benefits of Cement Packing Machines?
Ans. The use of Cement Packing Machines offers numerous advantages such as the reduction of labor costs, and accurate filling and weighing among others, hence, resulting in good packaging quality. These machines are used in the optimization of the packaging process in cement production.
Q. What do the Cement packaging machines require in terms of maintenance?
Ans. Maintaining the Cement Packaging Machines include cleaning, lubrication, inspecting the constituent parts, and replacement of deteriorated parts on time. The machine operates smoothly and without a hitch when following the manufacturer's guides.
Q. Is it possible to integrate a cement packing machine with other setups?
Ans. Yes, Cement packing machines may be smoothly connected within a cement production chain. Such machines can function cooperatively with others such as cement mills, silos, conveyors, and palletizers. This integration smooths the entire production process, which leads to the uniform operation.
Explore More: