Household Paper
1240 products
Top Household Paper Categories
---
Household Paper Towels

The word 'paper' is derived from the ancient Greek word 'Papyrus', which was a writing material formed by beating strips of papyrus plants. Papyrus was produced in 3000 BC and was sold in Ancient Greece and Rome. Paper is a product made of thin material, which is a fusion of vegetable fibers formed by cellulose and are held together by hydrogen bonding. Though natural fibers are used most of the times, synthetic fibers like polypropylene and polyethylene are also mixed to give the paper some judicious physical properties. These fibers may be obtained from wood pulps, soft wood and hard wood, and also from vegetable fiber materials like hemp, cotton, linen and rice.
Household Paper
Paper forms an intrinsic part of our lives. It is next to impossible to imagine a day without paper. Every household uses a stunningly high amount of paper in one form or the other. Dad needs printouts, mom needs it for various household chores, a child wants to do homework, the other wants to make something out of it.....We use paper daily in the form of newspapers, tissues, magazines, kitchen wipes, toilet rolls, printouts, etc. It is our growing dependence on paper, that more and more trees are being cut everyday.
How is Paper Made?

Paper making process is not very complex. Very succinctly, paper fabrication involves six easy steps; the first step involves cutting of trees and then sending them to paper mills. At the paper mills, the bark is removed from the wood, as it is not used to make paper. Then this wood which has been separated from its bark is cut into small pieces with the help of a chipper. These wood chips are then cooked until they transform into a soft, slippery pulp or slurry. In the next step, this slurry is poured into a container and then from there into a large screen, where the water is drained out from the paper. It is then pressed between two rollers, and finally paper is made.
Paper in China...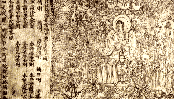 Paper is considered one of the greatest inventions of the ancient Chinese civilization. Earlier, the Chinese used bones and bamboo to write messages, but they were too heavy to transport. They also used silk, but that proved costly too. A courtier named Ts'ai-Lun, from Lei-yang in China invented paper (not papyrus) circa in 105 A.D. The Chinese utilized paper in many innovative ways. They were the first to use paper as toilet paper. Many travelers who visited China around the 6th century AD described their peculiar habit of wiping themselves, rather than washing themselves clean.
Paper was used for writing only much later. The Chinese first utiized paper for wrapping stuff. They used paper for covering poisonous medicines.The world's earliest known printed book (using woodblock printing), the Diamond Sutra of AD 868, shows the widespread availability and practicality of paper in China. They folded paper to make bags for preserving the flavors ofA teas. The Chinese also used multi-colored paper cups and paper napkins of varying shapes and sizes. During the Chinese Song Dynasty (AD 960-1279) not only did the government produce the world's first known paper-printed money, but also bestowed the same as gifts to officials, wrapped in special paper envelopes.
Where is Paper Used?
In today's world, paper forms an inseparable part of our daily lives. Individuals of all age groups, from a school going child to a retired person are equally dependent on it. These days with the coming of computers and other modern technology, the use of paper has reduced to some extent, but there are innumerable things for which finding a substitute for paper in impossible. Paper is a multi- purpose product which has abundant uses, which can be classified in the following ways.
To Represent a Value:

Paper money, bank note, check, security voucher, ticket


For Entertainment:

Books, magazine, newspaper, art

For Packaging: Corrugated box, paper bag, envelope, wrapping tissue, wallpaper


For Cleaning:

Toilet paper, handkerchiefs, paper towels, facial tissue, cat litter


For Construction:

Papier-mache, origami, quilling, Paper honeycomb, construction paper, clothing


Other Uses:

Emery paper, sandpaper, blotting paper, litmus paper, universal indicator paper, paper chromatography, capacitor dielectrics.
Types of Household Paper...
Paper has a vast usage at homes. Paper is used for all purposes big and small, and has become an important part of our lives. Listed below are some household uses of paper:
Paper Bags-

Shopping bags are made from paper and recycled paper and are one of the most extensively used forms of paper


Tissues-

Tissues are used in bulk everyday. They are used for wiping hands, generally after eating. Also mothers give their children tissues to carry to school to keep them clean


Toilet Paper-

These days due to scarcity of water, people wipe themselves clean. These papers are water soluble and can easily be flushed


Kitchen Wipes-

These are used in the kitchen to wipe shelves

Moist Facial Towels- These are used during hot summer months to wipe sweat away


Origamy-

Very often children make stuff from paper like small boats, balls, etc,this is termed as origamy


Printer Paper-

Computers have become a common feature in households these days, and so have printers. Every day an average household uses approximately 200 sheets of paper


Household Notebooks-

These are used to jot down everyday chores and bills


Others-

Every household uses calenders, cards, newspapers, magazines, etc. that are all made of paper.






Products Related to Household Paper...






Hard Cover Notebooks

Soft Cover Notebooks

Spiral Notebooks and Pads

Refill Paper and Pads

Composition Book

A4 Paper

Other Customized Paper Products

Bound Books

Doodle Pads

Construction Paper Pads

Paper Coating & Laminating of All Description

Hesian Cloth Laminated with Papers Using Blown Grade-bitumen

Other Bonding Medium

Wax Paper

Paper Bags.
How to Recycle Paper at Home?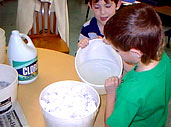 We first cut the scrap paper and newspapers into small pieces and put them in a large bucket. We then mix about half a gallon of warm water and a table spoon of bleach together and pour it into the bucket with scrap paper and let it soak for at least an hour and a half. Then we take a cup of soaked paper and put it in the blender adding another two cups of warm water with bleach in it. We can then let the mixture blend, till it turns into a smooth slurry.
Then use large embroidery hoops with nylon netting to drain out water from the slurry mixture. Press the excess water out of the slurry and then lay the damp slurry on thick layers of newspapers to dry. Recycled paper is now ready for use.
The Household Paper Market Today...

In today's age and time, man has become a slave of paper and he uses paper extensively in his day to day life. Right from basic necessities like tissues, kitchen wipes, diaries and wax papers to tickets, currency notes, bank notes, etc. these products are all fabricated from paper. Considering the wide range of products that can be produced using paper, the household paper market looks promising and lucrative given the clientele it has.
---