Efficiency, precision, and speed are the cornerstones of success in the highly competitive and dynamic automotive industry. From assembling delicate components to maintaining a smooth production process every step counts. One technology that has proven to be indispensable in carrying out all the processes in the automotive industry with ease, is the vibratory feeder. In this detailed blog, we will look at the applications and advantages of vibrator feeders in the automotive industry, as well as information on vibrator feeder manufacturers, prices, dealers, and suppliers in India.

Applications in the Automotive Industry
Feeding Fasteners and Small Components
The feeding of fasteners and small components is one of the principal uses of vibratory feeders in the automotive industry. Bolts, nuts, screws, and other small parts required for assembly processes are continuously supplied by these feeders. Assembly lines are streamlined, downtime is decreased, and productivity is increased thanks to the exact control over the flow of components.

Orientation and Alignment of Parts
In order to arrange components or parts correctly for assembly, vibratory feeders are excellent in aligning and orienting them. These feeders play a critical role in ensuring that components fit correctly, lowering the chance of mistakes and flaws, in the automotive sector, where precision is essential.
Conveying and Sorting
From one section of the assembly line to the next, components or parts are moved with the help of vibratory feeders. They can also be used in conjunction with sorting systems to divide components according to their size or type. This is particularly helpful in automotive factories because there are so many different parts and components used there.
Feeding of Seal and Gasket
In order to ensure the integrity of numerous components, including engines and transmissions, seals and gaskets are crucial in the making of automotive. These seals and gaskets are accurately fed to the assembly process using vibratory feeders, ensuring proper installation and avoiding leaks or failures.
Assembly of Electronic Components
With delicate electrical components, sensors and connections are handled carefully in vibratory feeders. To maintain the reliability and performance of automotive electronic components, the feeders ensure proper placement and soldering of these components on circuit boards.
Advantages of Vibratory Feeders in Automotive Industry
After looking at the applications of vibratory feeders in the automotive industry, let us examine the benefits they specifically provide:
Precision & Accuracy: Vibratory tables facilitate the smooth movement of components and maintains the exact placement of components in alignment and orientation. In automotive manufacturing, where even minute differences might make an error or interrupt a assembly line, this degree of precision is vital.
Increase in Productivity: In auto assemblies, vibratory feeder technology delivers the increased productivity required in an environment of large-scale manufacturing. Continuous running allows them to minimize any downtime and optimize productivity.
Versatility:
Vibratory feeders can handle small fasterners and delicate electronic spare parts at the same time. Such versatility of the feeders make them valuable in the auotmotive industry, where the assembly of various parts becomes necessary.
Reduced Labour Costs:
Vibratory feeders automate the process of feeding and handling of components, minimised the need for manual work. Along with reducing labor costs, this also enhances worker safety by minimizing their exposure to tedious and hazardous tasks.
Consistency & Quality:
Consistency in handling and placing of components results in higher product quality. In order to maintain high levels of consistency and lower the possibility of mistakes and flaws in automotive components and assemblies, vibratory feeders are used.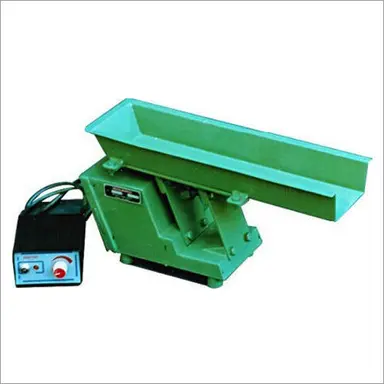 Vibratory Feeder
View Product Details
Cost-Efficiency:
Vibratory feeder systems require an initial investment, but their long-term cost effectiveness stems from their higher production and lower labour and error-related costs.
Vibrator Feeder Market in India
Finding trustworthy manufacturers, dealers, and suppliers of vibrator feeders is crucial for individuals working in the Indian automotive industry. Here is a quick summary:
Vibrator Feeder Manufacturers:
India is home to a number of prominent vibrator feeder manufacturers that provide a variety of solutions to meet the demands of various industries. To satisfy particular needs for automotive assembly, these companies frequently provide customisation options.
Vibrator Feeder Price:
The prices of vibratory feeders in India vary depending on the capacity, features, and customisation. Customers can select the most suitable vibrator feeder as per their requirements.
Vibrator Feeder Dealers:
In providing after-sales support, replacement parts, and maintenance services, regional dealers and distributors sometimes play a significant role. Selecting dealers with a solid reputation for technical know-how and customer service is advisable.
Vibrator Feeder Suppliers:
Suppliers provide a broad variety of Vibratory Feeders available from numerous manufacturers. They serve as your one-stop shop for finding the ideal feeder for the automotive assembly process.
Conclusion
In conclusion, vibrator feeders are now a necessity in the automotive industry because of their accuracy, efficiency, and versatility. In many of the industrial applications, vibrator feeder are extensively used, including handling of fragile electronic products, ensuring product quality, as well as feeding fasteners and aligning various components. There are plenty of Vibratory feeder manufacturers in India, presenting variety of feeders. In-depth research and firsthand conversation with manufacturers and suppliers plays a vital role in finding out which would be the best Vibratory Feeder manufacturer and supplier in India.
FAQs: Vibrator Feeders
Q. What is a vibrator feeder and what are its primary function?
Ans. A vibratory feeder is a mechanical equipment designed to control vibration to sort, orient, and transport materials, parts, or components into numerous industries such as the automotive industry. It comprises of a trough or tube fixed on a base with an internal vibration mechanism. The primary function of a vibrator feeder is to move, orient, align, and feed materials, parts, or components in a controlled and accurate manner. It ensures that components are positioned correctly for further processing or assembly.
What are the common uses and industries that utilize vibrator feeders?
Ans. For precise handling of materials, vibratory feeders are widely used across numerous industries, including the following:
Automotive Industry: Feeding and aligning components during assembly.
Manufacturing: Handling materials, parts, and fasteners.
Food Processing: Sorting and aligning food products.
Pharmaceuticals: Distributing tablets and capsules.
Electronics Manufacturing: Assembling electronic components.
Mining: Transporting bulk materials.
Chemical Industry: Conveying chemicals and powders.
Packaging: Controlling product flow in packaging.
Recycling: Sorting recyclables like plastics and glass.
Agriculture: Conveying seeds and animal feed.
Plastics Industry: Handling plastic components and raw materials.
Foundries: Moving materials during casting.
Woodworking: Aligning wood pieces and components.
Aerospace: Transporting precision components.
Glass Industry: Handling glass containers and components.
What are the advantages of using a vibrator feeder in material handling?
Ans. There are various advantages of using a vibrator feeder in material handling such as:
Vibratory feeders ensure proper positioning and alignment of materials by providing precise control over their movement. This is vital for industries like electronics and automotive production where precise positioning is required.
Productivity is boosted as a result of automation using vibratory feeders. They may run constantly, minimising downtime and raising overall manufacturing process efficiency.
Vibratory feeders are versatile and can handle a variety of materials, including small fasteners and delicate electronic components. They are excellent for a variety of industries and applications because of their adaptability.
Vibratory feeder automation eliminates the need for human material handling labour, saving money. Additionally, it improves worker safety by limiting exposure to potentially risky tasks.
Q. What types of materials can be handled by a vibrator feeder?
Ans. The following list is not exhaustive and illustrative of the variety of materials that vibrator feeders can handle:
Small Parts: Vibratory feeders are frequently used in industries like the production of automobiles to handle small parts and components. Fasteners, nuts, bolts, washers, and other small metal or plastic parts fall under this category.
Electronic Components: Vibratory feeders can be used during electronics assembly processes to precisely handle delicate electronic components such as resistors, capacitors, connectors, and integrated circuits.
Food Industry: Vibratory feeders are used in the food sector to transmit and align a variety of food products, including grains, nuts, sweets, and snacks.
Bulk Materials: Granules, powders, and aggregates can all be handled by vibratory feeders. They are utilised for material processing and transportation in sectors including mining and construction.
Q. What are the different types and designs of vibrator feeders available?
Ans. Each vibratory feeder type and design is suited to a particular requirement for material handling:
Bowl Feeders: Bowl feeders are frequently used to organise and position pieces on a spiral track.
Liner Feeders: Feeders with a linear track, ideal for longer, narrower materials.
Hopper Feeders: Use a hopper to manage the flow of materials.
Cascade Bowls: Multi-tiered bowls for more capacity and separation.
Step feeders: Sort and arrange materials using steps.
Centrifugal Feeders: Using a spinning disc, centrifugal feeders propel mateirals outward.
Vibrating Conveyor Feeders: Conveyor belt with vibration for heavy materials.
Spiral Elevators: Elevate materials using spiral motion with spiral elevators.
Disc Feeders: Move and arrange materials by rotating discs with pockets.
Grizzly Feeders: Separate and remove large materials.
Tube Feeders: Cylindrical for fragile materials.
Miniature Vibratory: Small, light-weight vibratory feeders.
EXPLORE MORE: