Remy Hair Extensions
(401 products available)
Tradeindia has a huge collection of Remy Hair Extensions including Straight Hair Extensions, Wavy Hair Extension, and Curly Hair Extension etc. They have highly fine texture, are durable in use and perfect for easy styling.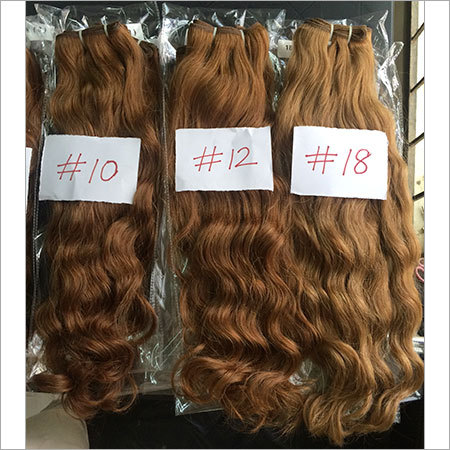 Minimum order quantity
100 Kilograms
HRITIK EXIM
Hyderabad, India... More

Lalit Villa, 25-26, Ishaq Colony, Hyderabad, India
Remy Hair Extension
Remy Hair Extension is soft in texture with long life, perfect ends and usable with good care. They are of different kinds which include machine weft, clip in set, lace closure, and lace frontal,
full lace wig etc. It comes in length varying from 8 -30 inches. And, in multiple types like curly, natural temple hair, straight, etc.
Remy Hair Extension Clip
Remy Hair Extension Tap is a type of hair toppers. It is applied on the person's head with the help of small clips come already attached. It suits on every women of all age groups. Available in various lengths and in shades of black/brown. They can be colored, cut, washed, curled and straightened just like your normal hair.
100 % True Remy Hair Extension
-> 100 grams: 10 inch to 30 inch sizes
-> Made of human hair and synthetic hair
-> Looks like wearing real hair
-> Parlor and personal use
-> Extend the length of the hair temporarily
-> Can be styled with heat, color and cut
Curly Remy Hair Extension Sewn In
This type of hair extension is ideal for thick and curly hair as to apply it on hair, the person's hair is firstly braided and then the wefts of the hair extension is sewn into the braids using needle and thread.
Why Tradeindia?
Tradeindia brings forth an exceptionally designed array of modern designs of Remy Hair Extensions online from verified suppliers, dealers, traders and exporters.
Tradeindia makes it easy to choose Remy Hair Extensions with high efficiency and compact structure from hundreds of verified suppliers. Once you've shortlisted the Remy Hair Extensions supplier, you can contact them directly through India's #1 B2B marketplace, Trade India.
The details of all
Hair Extensions
and their sellers are listed on Tradeindia.com.You can compare several different wholesalers, traders, dealers, and exporters of
Remy Hair Extensions
on a single page.
Frequently Asked Questions:-
Q.1 What is Glue-In hair extension?
Glue-In hair extension is suitable for short duration, to apply this extension into the hair, the glue is put into the wefts of the extension. And oil-based solvent is used for removing this extension.
Q.2 From how many stages, the hair has to go through to manufacture Remy Hair Extension?
These stages are Collection stage of hair from donors, Blending stage to match and process the hair, Fabrication stage to sew the hair into wefts. And the last one is Sanitation stage to remove dirt, lice's, and nits.