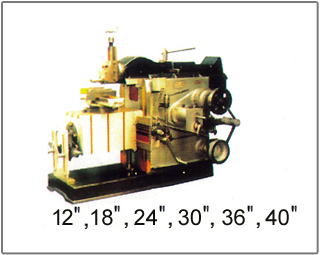 Shaper Machines
Get Latest Price
---
---
Product Overview
Key Features
The finest raw materials, the most advanced techniques and outstanding craftmanship all go into the making of Shaper Machines. But Quality Control is the most vital factor; meticulous testing is carried out at every stage of manufacture. The reason why Shaper Machines always measure upto highest standards comparable to the fittest in the world.
Technical Specification of Shaper Machines :-
Main Body : Comprises of well proportioned casting with internal ribbings. The Vertical Slides and Ram Slide have wide bearing surface in accurate alignment.
Ram : The Ram is of Heavy Cross section to resist cutting stresses. Alignment is preserved by well proportioned Vee Type earings. Adequate means of lubrication are provided and felt vipers are fitted to protect the Slides.
Tool Head : Can tilt upto 60 either side. It is easy to adjust and tool is automatically lifted when returning.
Cross Slide : Can traverse horizontal and vertical also. Horizontal motion can be had by automatic feed as well.
Table : The table universal is provided with Tee Slots on the top as well as on one side and has bolt holes on the other side. A special V-shaped support is provided for it to withstand heavy cuts. Table can revolve around it axes 360 making it complete universal.
Standard Accessories : One heavy duty Vice having one operating handle with motor pulley.
---
Company Details
Established in 1956 ,India ALFA MACHINERY MAKERS has gained immense expertise in supplying & trading of Lathe machine, planer machine, heavy duty lathe machine etc. The supplier company is located in Batala, Punjab and is one of the leading sellers of listed products. Buy Lathe machine, planer machine, heavy duty lathe machine in bulk from us for the best quality products and service.
Business Type
Exporter, Manufacturer, Supplier
Certification
ISO 9001:2008
More Products From This Seller
Explore Related Categories
People Also Viewed
Shaper Machines In Batala