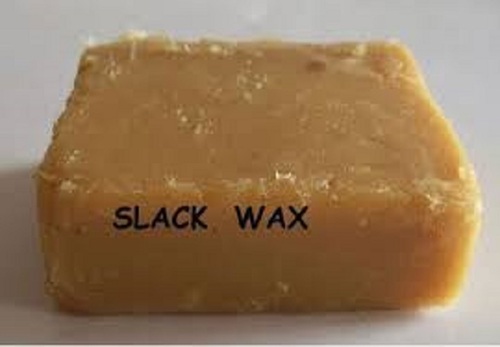 Paraffin Slack Wax For Industrial Uses
---
Get Latest Price
---
Supply Ability
1000 Per Month
---
Delivery & Payment Options
Telegraphic Transfer (T/T)
Product Overview
Key Features
Slack Wax is mixture of paraffin wax and oil originated from petroleum crude oil. Slack Wax oil content can range from *0% to *0%. Slack Wax is produced during the production of Group I lube base oil. During production of Group I lube base oil, the feedstock firstly has to go through solvent extraction process to remove aromatics and the resultant product is called raffinate. The raffinate is then diluted with solvent o lower its viscosity to improve low-temperature filterability. The diluted oil is then chilled to **0C to **0C. Wax crystals will form, precipitate and removed by filtration. The removed wax becomes slack wax. The traditional usage of Paraffin Slack Wax is in the production of fully refined paraffin wax. And other major usage are for particle board and medium density fiberboard, cable filing compound , matches, candles, rust protective products and moisture vapor barriers.
With the continuous closure of Group I base oil plant which decrease supply, and new major applications for Slack Wax as feedstock for low sulfur fuel and Group III base oil plant, the price of Paraffin Slack Wax has since increased by a staggering **0% since early ***0s.
---
Company Details
STM Wax Co.,Ltd is poised to be a regional market leader, with a commitment to business growth along with contribution to the sustainable advancement of ASEAN and the local communities where we operate. It is also our commitment to add value for our customers, employees, business partners, and related parties through the business management of international standard, strong principles of corporate governance and uncompromising safety standards. With the aim of contributing to the well-being of humanity, we are trusted experts in the supply of quality, stylish home fragrance goods along with being market leaders thanks to our extensive and innovative product range, coupled with our renowned knowledge and service.
Business Type
Exporter, Trading Company, Wholesaler, Dealer
Working Days
Monday To Sunday
Payment Mode
Cash Advance (CA)
Seller Details
STM Wax Co .,ltd
Owner
Mr Santipap Tapla
AddressView on Map
34/101, Soi 12 Thasay, Mueang Samut Sakhon District, Tha Sai, Samut Sakhon, Samut Sakhon, Samut Sakhon, 74000, Thailand
Explore Related Categories
Paraffin Slack Wax For Industrial Uses In Samut Sakhon