Sanitary Ware
(7831 products available)
Tradeindia.com is one-stop source for buying wide and stunning collection of Sanitary Wares online from reliable suppliers, dealers, traders and exporters.You can explore Sanitary Wares including other affined products such as Ceramic Sanitary Ware, Bathroom Sanitary Ware, Porcelain Sanitary Ware.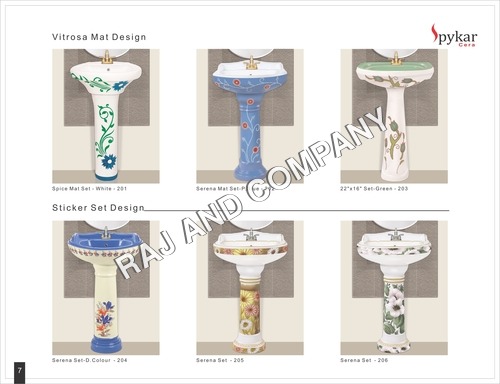 Minimum order quantity
1 FCL (Fully Container loaded) Piece
RAJ & COMPANY
Rajkot, India... More

15-16, Galaxy Commercial Centre, 1st Floor, Jawahar Road, Rajkot, India
What are Sanitary Wares and what are their uses?

Sanitary Wares are bathroom and washroom plumbing fixtures. Washbasins, pedestals, bidets, urinals, sinks and bath tubs all are Sanitary Wares. They aid in maintaining the hygiene and health through supplying sewage facilities and clean drinking water.

These wares are made up of fine grade ceramic materials and latest technologies, which enhance their durability and longevity.These sanitary wares can be suitable and plumbed in any kind of bathroom whether, classic or contemporary. Moreover, their appearance enhances the overall look of the bathroom. They come in varieties of different sizes, shapes and sizes according to different requirements.

Features:-
1) Fine finish
2) Easy to clean because of its fine surface
3) Resistant to chemical attacks
4) Corrosion resistance
5) Industrial and Domestic use

Why Tradeindia?

Tradeindia.com is India's largest B2B market and it has a impeccable quality of Sanitary Wares including other related products such as Ceramic Sanitary Ware, Bathroom Sanitary Ware, Porcelain Sanitary Ware etc. They add a luxurious and warm touch to the interiors.

Get here the listings of provided Sanitary Wares and compare their best prices, ratings, features and more. You can select the suppliers as per your requirements after browsing the listings of Sanitary Wares suppliers.

Once you've shortlisted the suppliers, you can build a direct link and send them inquiries through the website or contact the dealers over phone, SMS and email by providing you their details.