Low Temperature Deep Freezers
Tamil Nadu, India
Date Posted:

06 June 2017

Expiry date:

06 June 2018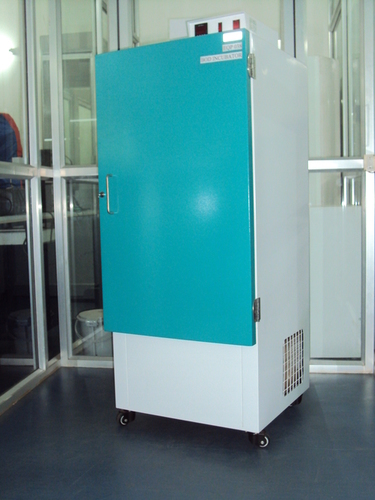 Deep Freezers, are widely used in Chemical labs, Pharmaceutical division, Biotech, R&D & QC divisions, Microbiology, Clinical trial labs, & Educational Institutes.

Standard Specification
Model: Floor type - Upright / Chest type
Temperature range: Ambient to -20C / Ambient to -40C / -80C to -20C
Temperature control accuracy: + 2C
Ambient Temp. Recommendation <30.0C
Display resolution & Control Sensitivity of 0.1C
Control Readout for Actual and Set point
Digital Microprocessor based PID, temperature indicator cum controller
Temperature Sensor Pt 100 (RTD)- 3 wire. Class A.
CFC free Single stage refrigeration system for Cooling up to -40C
CFC free Double stage (Cascade) refrigeration system for Cooling below -40C
Deviation alarms for temperature high / low, Power failure, door open, HP/LP open. (Audio & Visual with mute function)
Inner Chamber made of Stainless steel 304 grade dully polished
Outer made of Mild steel CRCA sheet with powder coating
Double walled, fully front opening, inner lined with SS, Handle & lock for door
Magnetic type Gasket with Single /Double / Triple layer - depends on minimum temperature
Hermetically sealed Emerson make compressor
Fin and tube air cooled condensor
CFC Free refrigerants - R134a / R404a & Suva 95
Battery back up for Temperature Display, whenever power fails
Separate sub doors made of SS 304 grade for each compartment
High density PUF Poly Urethane Foam Insulation to avoid temperature loss.
Shelves - Adjustable type, no. of trays according chamber capacity
Wheels for easy moving with front locking facility
Power supply - Single Phase 230VAC, 50Hz

Optional features
Upto -86C temperature
Fully Stainless steel
Seven days (Weekly) chart recorder with battery back up
Voltage Stabilizer for refrigeration system
NABL Certified Calibration Certificate
PC interface through RS232 / 485 Communication module for data logging
Deep Freezer also available in different sizes as per customer requirements.
Send Inquiry