Incubator Shaker
Tamil Nadu, India
Date Posted:

06 June 2017

Expiry date:

04 September 2017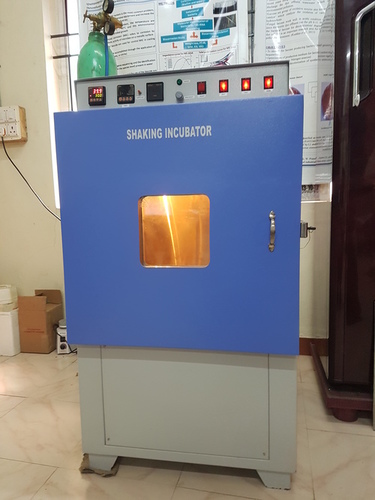 Shaking Incubator, Incubator shaker, orbital shaking incubator with and without cooling are widely used in Chemical labs, Pharmaceutical division, Biotech, Fertilizer division, R&D & QC divisions, Microbiology, and Clinical trial labs.

Standard Specification
Shanking Incubator: With / Without cooling
Model: Table top type
Temperature range: 5C above Ambient to 60C / 10C to 60C
Temperature control accuracy: +/- 0.1C
Ambient Temp. Recommended: Ambient
Display resolution & Control Sensitivity of 0.1C
Control Readout for Actual and Set point
Digital Microprocessor based PID, temperature indicator cum controller
Temperature Sensor Pt 100 (RTD)- 3 wire, Class A.
Digital timer with- hour / min / sec., & continuous operation selectable
Shaking speed indicated by Digital RPM indicator
Tray size: 420mm x 420 mm
Lotus clamps: 250ml - 16nos or 500ml - 16nos
Shaking speed range: 50 250 rpm
Shaking accuracy & Diameter + 1% & 25mm dia.
Mechanism drive through PMDC motor with DC drive
Insulation by PUF poly urethane foam
Automatic High temperature cut off: 2.0C
Heating by Stainless steel air heater to control set point
Deviation alarms for High or Low temperatures with visual indication
Inner Chamber made of Stainless steel 304 grade dully polished
Outer of Mild steel CRCA sheet with powder coating
Double walled, Fully front opening , inner lined with SS, Handle & Lock
CFC free single stage refrigeration system for cooling to below ambient incubator
Magnetic type gasket for leak proof
Viewing window through toughened glass to view samples
Low wattage PL lamp for illumination to view samples
Power supply - Single Phase 230VAC, 50Hz

Optional features
NABL Certified Calibration Certificate
Fully stainless steel
Shaking Incubator also available in different sizes as per customer requirements.

Click for standard models

Note: For continuous development the above technical specification & design, SGS reserves rights to change without any prior notice.


Send Inquiry