Areca Palm Leaf Plates
Karnataka, India
Date Posted:

21 April 2017

Expiry date:

21 April 2018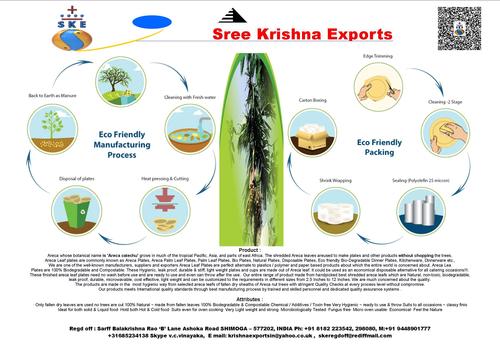 Areca whose botanical name is 'Areca catechu' grows in much of the tropical Pacific, Asia, and parts of east Africa. The shredded Areca leaves are used to make plates and other products without chopping the trees. Areca Leaf plates are commonly known as Areca Plates, Areca Palm Leaf Plates, Palm Leaf Plates, Bio Plates, Natural Plates, Disposable Plates, Eco friendly Bio-Degradable Dinner Plates, Kitchenware, Dinnerware etc., We are one of the well-known manufacturers, suppliers and exporters.
Areca Leaf Plates are perfect alternate to plastics / polymer and paperbased products about which the entire world is concerned about. Areca Leaf Plates are 100% Biodegradable and Compostable. These Hygienic, leak proof, durable & stiff, light weight plates and cups are made out of Areca leaf. It could be used as an economical disposable alternative for all catering occasions!!!.

These finished areca leaf plates need no wash before use and are ready to use and even can throw after the use. Our entire range of product made from handpicked best shredded areca leafs which are Natural, non-toxic, biodegradable, leak proof, durable, microwavable, cost effective, light weight and can be customized to the requirements in different sizes from 2.5 Inches to 12 Inches. We are much concerned about the quality. The products are made in the most hygienic way from selected areca leafs of fallen dry sheaths of Areca nut trees with stringent Quality Checks at every process level without compromise. Our products meets International quality standards through best manufacturing process by trained and skilled personnel and dedicated quality assurance systems .
Send Inquiry