Humidity Test Chamber
Guangdong, China
Date Posted:

07 April 2017

Expiry date:

07 April 2018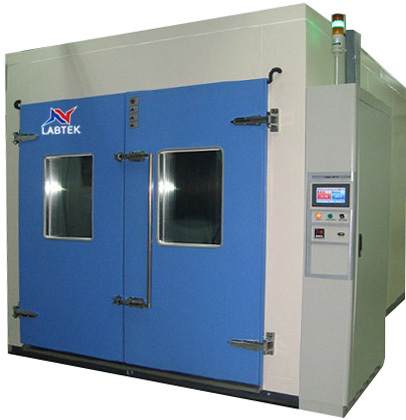 Specifications:
-Temperature range:-70C~+180C
-Temp constancy: within 0.5C
-Temp tolerance: 2.0C
Heating time:20C+150C 60 min
Cooling time: 20C-70C 90 min (No load, average1C/min)
Humidity range: 30%~95% RH
Humidity Deviation:3.0%RH(RH>75%RH)
5.0%RH(RH75%RH)
(Remark: Above data measured based on ambient temperature is +25C, RH is 85%RH, without specimen, constant temperature at 2 hours.)

Control method: BTHC, Balanced Temperature (Humidity) control
Utility temperature: +5C ~ +35C
Power supply: AC380V10%, 3-phase, 50Hz10%
Standard configuration:
Electrothermal film glass observation window, cable hole with plug*1,
specimen shelf 2pcs, illumination lamp 1pc, caster 4pcs

Complied standards:
GB/T2423.1-2008 Test A: Low Temperature Test Method
GB/T2423.2 2008 Test B: High Temperature Test Method
GB/T2423.3-2006 Test Ca: Constant Damp and Hot Test (For WR series only)
GB/T2423.4-2008 Test Db: Alternating wet and Heat Test (For WR series only)

IEC 60068-2-1-1990
Basic Environmental. Testing Procedures. Part 2: Tests. Test A: Cold.
IEC 60068-2-2-1974 Environmental testing, Large Capacity Climatic Chamber, Fast Rate Walk-In Chamber - Part 2: Tests - Tests B: Dry Heat

Features:
Large viewing window with heaters for monitoring the test status anytime.
Stable and user-friendly programmable touch screen controller
Cable access ports (Additional ports available upon customer's requirements)
High quality and adjustable specimen shelves
Multi levels safety protection devices
Strict function test and manufacturer's temperature calibration before package
Superb service will be provided
Structures
External: Double galvanized metal steel sheet, with spray-paint electrostatic processing surface
Internal: High quality stainless steel with mirror polishing
Insulation: Rigid polyurethane foam and glass fiber
Heater: Nickel chrome alloy
Humidifier: Stainless steel, with internal water tank humidity water supply and auto-feeding water supply for customer's using.
Send Inquiry