Drilling Irg HD-40E Man Portable Casing
Hebei, China
Date Posted:

17 February 2017

Expiry date:

17 February 2018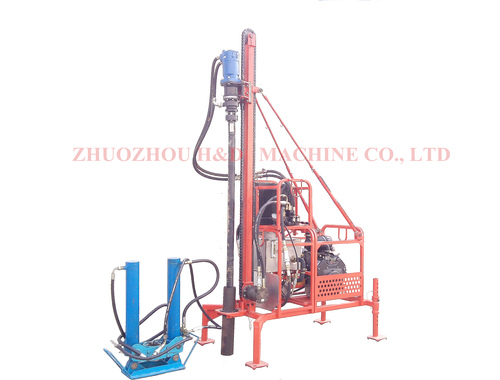 We are offering Drilling Irg Hd-40e Man Portable Casing for our client.

Features :
1. This drilling rig uses the modular design, disassembling fast, convenient and reliable. It includes engine, console platform, the mast assy., the power swivel, the aerodynamic system, the drilling tool and other appendices.
2. This drilling rig is applicable to work in mountains, loess, hill, plain, forest, Gobi, seasonal farmland for seismic prospecting, mine survey, geologic framework investigation etc such drilling project.
3. Drilling method includes air cutting drilling, DTH hammer drilling, mud drilling (option), auger drilling and casing drilling (with casing puller). Adapt to different drilling operation with relative drilling method. Max drilling depth is 40 meters.
4. This drilling rig adopt belt driving hydraulic pump. System uses combination mode as hydraulic oil tank + hydraulic pump and reversing valve + radiator. This combination mode optimizes parts weight and increases wellhead balance weight. The main mast assembly uses rectangular tube welding with slip way, to improve the safety of operation, transportation gets more convenient.
5. The system chooses REXROTH hydraulic pump, HAWE hydraulic valve and WHITE/DANFOSS hydraulic motor.
6. The drilling rig is equipped with hydraulic balance valve and reducing valve to assure drilling tools hoisting and pull down steadily with load. Improves reliability and safety of system.
7. Self-adaption system to stratum shortens handle regulating time of driller, improves drilling efficiency and ensures perpendicularity of the hole.
8. Pull up & down of drilling tools is achieved by hydraulic motor driving roller chain.
9. Use lithium battery with big capacity to reduce weight at max limit.
10. New model power swivel with the separation design of circulating drilling fluid and bearing chamber. This design reduces damage probability of bearing.
11. We design and use DTH hammer with inter convertible high-low frequency according to situation of single.
Send Inquiry