Spiner Hanger Type Shot Blasting Machine
Rajasthan, India
Date Posted:

08 October 2016

Expiry date:

08 October 2017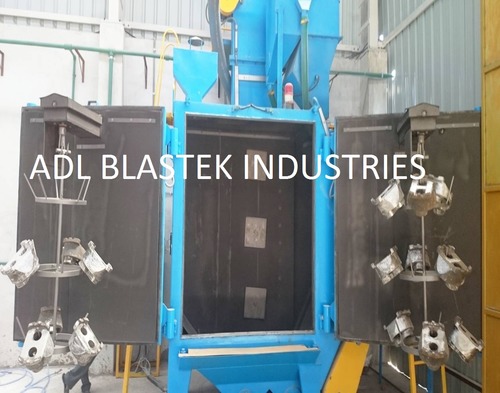 Hanger type shot blast machines designed and built as fully integrated blast cleaning systems to handle large/small or more fragile castings than barrel/table type machines. They provide a cost effective solution for batch cleaning.

Hanger type Machine consists of horizontal door with a rotating hanger type work/job handling system. This hanger is directly mounted on the door of the machine and it rotates on its own axis, drive unit of this hanger is provided outside the door. This hanger swings out as the door is opened, making the full area easily approachable for loading and unloading of the components. For loading the components, door of the machine is opened manually & components to be blasted are hanged one by one on to the door hanger and the door of the machine is closed.

After this two nos of Blast wheel units which are strategically placed on the Blast cabinet, is started. Blast wheels will fire the abrasive at high velocity on the components hanged on the hangers and rotating in clockwise and Anti-clockwise direction and blast cleans them thoroughly. Bi-directional rotational mechanism of hanger ensures that each and every portion of the component will get exposed to the blast stream for through cleaning. The arrangement of the blast wheel ensures optimum blast cleaning and maximum utilization of the abrasive energy. After the required blasting cycle, blast wheel unit shuts off and door of the machine is opened manually for unloading of the components.
Send Inquiry