Festival Season Offer Air Freight For Import
Delhi, India
Date Posted:

02 August 2016

Expiry date:

04 October 2017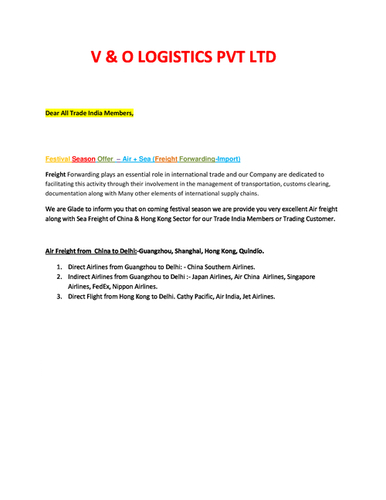 Festival Season Offer Air + Sea (Freight Forwarding-Import)
Freight Forwarding plays an essential role in international trade and our Company are dedicated to facilitating this activity through their involvement in the management of transportation, customs clearing, documentation along with Many other elements of international supply chains.
We are Glade to inform you that on coming festival season we are provide you very excellent Air freight along with Sea Freight of China & Hong Kong Sector for our Trade India Members or Trading Customer.

Air Freight from China to Delhi:-Guangzhou, Shanghai, Hong Kong, Quindo.
1. Direct Airlines from Guangzhou to Delhi: - China Southern Airlines.
2. Indirect Airlines from Guangzhou to Delhi :- Japan Airlines, Air China Airlines, Singapore Airlines, FedEx, Nippon Airlines.
3. Direct Flight from Hong Kong to Delhi. Cathy Pacific, Air India, Jet Airlines.
Send Inquiry