Mini Tstar- 3 Phase Mobile Pump Starter
Maharashtra, India
Date Posted:

27 April 2016

Expiry date:

26 October 2017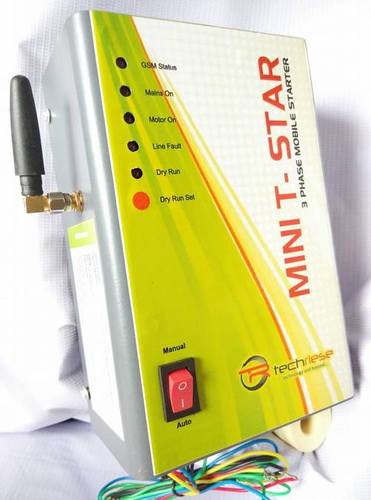 3 phase and single phase irrigation pump protection, control and monitoring with the help of mobile phone.

Mobile phone based ON/OFF setting
Motor can be ON/OFF for a desired period of time using missed call only
Most Economical ( operated on missed call )
Single phase/line fault prevention with Auto Restart facility
DRY RUN protection. Single click PUSH button facility for DRY RUN setting.
SMS based quick alerts- SPP fault alert, DRY RUN alert, mains failure alert, motor ON/OFF alert.
Get current update through SMS.
Get signal strength through SMS.
LED indicators for simple understanding
Can be easily used along with DOL, STAR DELTA starters.
AUTO/MANUAL switches for better portability.
Universal design for ease of access.

An ISO 9001:2015 certified product.
Send Inquiry