Brake Pedal Force Sensor And Instrument
Gujarat, India
Date Posted:

09 September 2015

Expiry date:

22 June 2018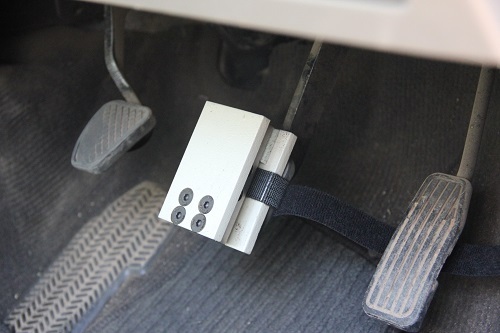 For Measuring Force exerted on Brake Pedal during brake test OR drive.

ADI ARETCH TRANSDUCERS PVT.LTD. Has designed and developed Brake Pedal Force measuring instrumentation system comprised of:
Brake Pedal Force Transducer
Force Display unit (with computer interface serial port-optionally offered) battery operated
Users Software windows based for graphics of the test pattern-optional.

Features:
Displays the force exerted on brake pedal during test or drive
Records the maximum force exerted during the test or drive on the display unit or on monitor
It is easy to install and operate with the help of strap
Auto Battery operated unit for ease of operation.

Brief Specification:
Measuring range-0-1500N
Measuring Accuracy-better than 1% of span
Resolution-1N
Display-5 digit LED display
Accessories:
Instrument power connecting cable
Sensor connecting cable
Sensor fixing strap
Computer connecting cable (optional)
Software (optional).

How it works:
Fix the sensor to the brake pad with the help of strap. Connect the sensor to the display unit and display unit to the PC (not in our scope). Apply the DC 12 Volt power to the display unit-take care of power polarity. Push tare switch to zero display. Apply brake force which will be displayed by the indicator.
Peak value can be displayed while keeping the unit in peak hold mode; else it will show the current value.
All data will be stored in the PC which can be analysed any time at users wish.

Similar Products:
We can also supply Clutch Pedal Force, Accelerator Pedal Force and Hand Brake Force Transducers with Display unit and Software.

Send Inquiry