Table Linen Manufacturers | Suppliers in India
| Company Name | Location | Member Since |
| --- | --- | --- |
| Craftola International | Jaipur, India | 7 Years |
| Sunrays Impex | Madurai, India | 5 Years |
| Linen Design Company Pvt. Ltd. | Gurugram, India | 3 Years |
| Home Zone India | Panipat, India | 3 Years |
| V One Industries India Pvt Ltd | Pune, India | 3 Years |
| Sri Kalyan Export Pvt Ltd. | Erode, India | 2 Years |
| J.C. International | Panipat, India | 2 Years |
| Vinson Home Fashions | Coimbatore, India | 2 Years |
| Decore In Design | Indore, India | 2 Years |
| Keshav International | Panipat, India | 2 Years |
---
What is Linen?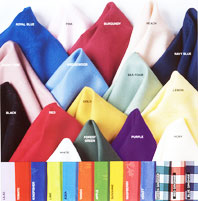 Linen is a material made from the fibers of flax. Linen yarn is spun from the long fibers found just behind the bark in the multi-layer stem of the flax plant.
The quality of the finished linen product is dependent upon growing conditions and harvesting techniques.
What is Table Linen?
Linen fabric used as a cover for dining tables, study tables, display tables, etc. is called table linen. In earlier times, table linens were used as a sign of royalty and the poor people had no linens or even tables. But today, table linen is used as a common decorative cover for tables.
Raw Material of Linen

Flax is the raw material of linen grown as an annual spring crop grown both for its fiber and its seed. The stem of the fiber plant is slender and tall ranging from 25 to 125 cm in length in sparsely and heavily branched varieties depending on the regional conditions and climate. The fibre consists of the skin surrounding the woody core of the stem. The period of growth is about 90 days and the flax is pulled when the seeds begin to brown.
There are over 200 varieties of flax plants, which is cultivated on primarily silt or clay loams in a moist and warm climate. It is traditionally grown in no more than twenty countries worldwide.
The largest flax-growing country is Soviet Russia, which produces approximately 90 percent of the total flax crop of the world. Today flax is an expensive fiber and produced only in small quantities.
Pulling of Flax
The flax crop is either hand-harvested by pulling up the entire plant or stalks are cut very close to the root. It is very carefully harvest for valuable fibre would also be lost by the slightest injury. There are mechanical pulling machines but these are only applicable where the fields are large and in districts where the harvest is early and not subject to the August rains.
Characteristics of Linen
Highly absorbent and a good conductor of heat

It is the strongest of the vegetable fibers with 2 to 3 times the strength of cotton

It is smooth, making the finished fabric lint free, and gets softer the more it is washed

It has poor elasticity and does not spring back readily

It has a high natural luster and its natural color ranges between shades of ivory, tan, or grey; pure white linen is created by heavy bleaching

When adequately prepared, linen has the ability to absorb and lose water rapidly

It quickly removes perspiration from the skin

Linen is resistant to moths and carpet beetles

Linen is easy to take care of since it resists dirt and stains

It has no lint or piling tendency and can be dry cleaned, machine washed or steamed

It can withstand high temperatures

Small knots occur randomly along its length

The finest linen has a very consistent diameter with no knots.
History of Linen
Linen is one of the oldest textile materials in the world the history of which goes back many thousands of years. Traces of linen thread dates back to the Neolithic times in Switzerland and the Bronze Age in Spain. Fragments of straw, seeds, fibres, yarns and various types of fabrics which date back to about 8000 B.C. have been found in Swiss lake dwellings. Linen was used in the Mediterranean in the pre-Christian age and as currency in ancient Egypt. Egyptian mummies were wrapped in linen, which was seen as a symbol of light and purity, and as a display of wealth. The finest linen cloths were spun as far back as 3,000 - 4,000 years B.C. in Mesopotamia, Assyria and Egypt.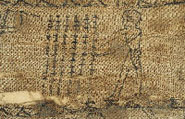 The ancient historian Herodotus mentions linen cloths where each thread consisted of 360 finest strands presented as a gift to Athena of Rhodos. Egyptian priests wore clothes made of linen that symbolized purity of light and fidelity. Linen was used to make clothes, combat outfits, bed wrappers, sailcloth and cordage and as canvas in painting in Greece that dates back to the 6th century BC. Ancient manuscripts of the 9th-10th century B.C. contain evidence of linen made by Slavs in Russia.
The famous Turin Shroud that bears the image of Jesus Christ and was used to wrap his body is of linen. Even the towel bearing Christ's image, Redeemer, not painted by human hands, was also made of linen.
Prior to the invention of paper, writers penned down their manuscripts on linen.
History of Table Linen
Table linen was used during earlier times mainly by the royal and elite class. Gradually with the passage of time, and with the advancement of technology, this valuable fiber fabric began to be used by the common people.
There is trace of table linen being used during the 12th century throughout France and Italy

The stylish class of people during the middle ages started providing individual linen squares for themselves and their guests, especially for use during meal time

The use of table linen spread quickly from the royal class to the merchant class and further to the smaller sections by the 15th century

During the fifteenth-century, long, narrow runners often identical in length and decoration to the table linen, were laid over the table linen to protect it

Earlier table linens were made of linen and then the use of cotton and silk also became popular

Small flower patterns and other innovative styles were designed on the table linen in the early 15th century

Venetian style and Damascus (damask linen) weave came into existence during the Renaissance period

The table cloths, i.e. table linen were folded to get a more thick covering on the table till the mid seventeenth century. Later, an undercloth was created to make a base layer for the cloth

During the late 1800s, Queen Victoria, who had lost her beloved Prince Albert, made it fashionable to be a widow. With this the custom of using darker shades of table linen came into being

Table linen became a common sight in the 18th century

By the end of 18th century, the use of table linen elevated to a greater standard and matching table linen were introduced.

Today blended table linen with cotton, polyester, jacquard, and other fabrics have been introduced in the market. Along with domestic use, table linen began to be used for commercial purposes. They are now available in various colors, patterns and embroidered varieties were designed and woven.

Application of Linen
Traditionally linen was widely used for towels, sheets, lightweight undergarments such as shirts, chemises, waist shirts, lingerie, and detachable shirt collars and cuffs. Today linen has wide application in the following areas:
It is used as household textiles, interior furnishings, textile wallpaper and wall coverings

Technical linen has found application in automotive, rubber, shoe and even aircraft industry

Flax fiber is used for the production of tarpaulin, sailcloth, driving belts, hoses and fishing nets

Flax fiber is also used as a base in the manufacture of roofing materials

It is used in the medical industry as absorbent wool that prevents the development of infection and micro-flora, atraumatic dressings, woven and combined bandages, surgical threads that readily dissolves in the human organism

Flax tow is used in the building industry as a heat-insulating material

Flax tow is also used in the production of an effective filtering material applied in waste-cleaning processes.
---