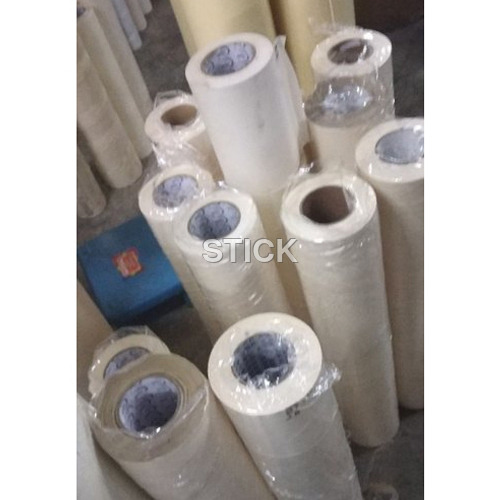 White Masking Film Tape
---
Get Latest Price
---
Supply Ability
2000 Per Month
---
Company Details
It is important to choose the right tape for the right job and Stick Tapes Pvt. Ltd., is here to help. The company has long been an expert in offering multiple kinds of adhesive tapes, marking tapes, paper tapes, cloth-based tapes and many others. Being in business since the year 2013, the company has gained great insights into the industry and uses them to improve its productivity and performance. It sticks to undertaking proper research works and studies new market trends, revising its range and adding new solutions to it accordingly. The company leaves no stone unturned to provide its customers with quality products as a market-leading manufacturer, supplier, trader, wholesaler, importer, exporter, and distributor. Choose its products that are made to withstand huge amounts of stress & pressure, stick to desired surfaces without being noticed, and resist water, UV, chemicals, and solvents where required.

Each product the company makes is as perfect as the last. Whether used for marking, measuring, or sticking, the tapes provided assure perfect performance. Excellent quality Floor Marking Tape, Double Sided Cloth Tape, HDPE Tape, Filament Tape, Adhesive Tape, etc., arises from the use of the best raw materials in production. No wonder many world-renowned customers such as Pidilite, LG Electronics, M & M, Bank Note Press, etc., opt for the bonding and fixing solutions the company offers time and time again.

Mr. Abhishek Ram Mundra, Director of the company, has deep knowledge of the industry which he constantly uses to lead employees on the path to success. He is a warm and compassionate person who is ever willing to share his expertise with the entire team.

Vasai, Maharashtra, India is where Stick Tapes Pvt. Ltd., started its journey toward success. Within a few years, the company managed to establish itself in both local and global markets of tapes. Customers from various industries regularly turn to the company for availing the best Double Sided Cloth Tape, Filament Tape, Floor Marking Tape, Adhesive Tape, HDPE Tape, etc. So, if you too want to be a part of this network, do contact the company representatives today!

Why Choose Stick Tapes Pvt Ltd.?

These factors have helped Stick Tapes Pvt. Ltd. stand out from the crowd:

Strategy- A thorough study is conducted to determine the business objectives of the customers, after which a plan is prepared to provide them with the best solutions that satisfy their needs.

Design- According to the requirements of the customers and the industry, eye-catching designs are implemented for the production of goods.

Develop- The products are developed with the most advanced machines and equipment that work optimally.

Deliver- Since time is money, orders are completed on time, within budget, and in the best possible quality.

The Production Process

The first and most important step in any production process is the procurement of raw materials. In many cases, the use of poor raw materials can result in the production of inferior end products. For this reason, Stick Tapes Pvt. Ltd. exclusively sources the best raw materials from vendors they trust. After the proper gathering and preparation of raw materials, the manufacturing process begins. The efficiency of the process is ensured by a team of experts. The entire team follows a well-organized production process when making Floor Marking Tape, HDPE Tape, Double Sided Cloth Tape, Adhesive Tape, Filament Tape, etc. They further check that tapes are of high quality and meet all the necessary specifications. Quality control checks are also carried out at various stages to ensure that there are no design defects.

Leadership

The Director of the company, Mr Abhishek Ram Mundra, is a strong, passionate individual who cares deeply for others and always puts his team first. He has a strong work ethic and always goes the extra mile to get the job done right. He also looks for ways to improve himself and make things better for those around him. Overall, he is a true inspiration and is someone everyone can look up to.

Vision

The vision of Stick Tapes Pvt. Ltd. is to continue expanding by adding more and more products to its portfolio, while also increasing company sales and profitability. It also aims to be the market leader in HDPE Tape, Adhesive Tape, Floor Marking Tape, Filament Tape, Double Sided Cloth Tape, etc.

Clientele

- LG Electronics
- M & M
- DB Schenker
- Currency Printing Press
- Bank Note Press
- Pidilite

Fact Sheet of Stick Tapes Pvt. Ltd.

| | |
| --- | --- |
| Nature of Business | Manufacturer, Supplier, Trader, Wholesaler, Importer, Exporter and Distributor |
| Year of Establishment | 2013 |
| Company Location | Vasai, Maharashtra, India |
| Director | Mr Abhishek Ram Mundra |
| No. of Employees | 10 |
| Import Export Code | 0315003022 |
| Banker | Union Bank of India |
| GST No. | 27AAZCS7271H1ZI |
| TAN No. | MUMS93513A |
| I.E. Code | 0315003022 |
| Annual Turnover | 5 Crore |
| Export Market | NA |
Business Type
Exporter, Importer, Manufacturer, Distributor, Supplier, Trading Company, Wholesaler
Working Days
Monday To Saturday
Seller Details
Stick Tapes Pvt Ltd.
Owner
Mr Abhishek Ram Mundra
Member Since
8 Years
AddressView on Map
Shailesh Ind. No.7, Gala No. 12, Navghar, Vasai ( E ), Vasai, Maharashtra, 401210, India
More Products From This Seller
Explore Related Categories
People Also Viewed
Masking Film Tape In Vasai ( E )