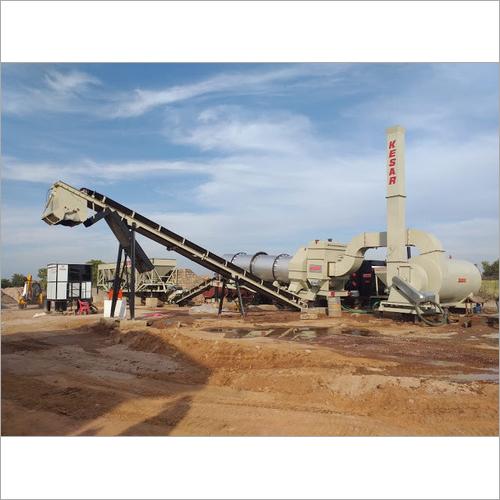 Blue Apollo Asphalt Plant
---
Price: 5000000.00 INR / Set
(5000000 INR + 0% GST)
1 Pack Contains: 1
Minimum Pack Size: 1
---
Supply Ability
5 - 10 Per Month
---
Delivery & Payment Options
Cash Against Delivery (CAD)

Letter of Credit (L/C)

Telegraphic Transfer (T/T)
Apollo Asphalt Plant Specification
Product Type
Asphalt Road Building Equipments
Main Domestic Market
All India
Packaging Details
International Standard
Company Details
In this era of continuous development, the construction industry too has been rising at an expeditious pace. The industry benefits from numerous tailwinds, including strong economic growth, technological advances, and an increase in infrastructure spending. The result is an industry that is expected to continue growing rapidly in the coming years too. Kesar Road Equipments (India) Pvt. Ltd. is one company from this sector that has been relentlessly providing its expertise since 2003. It was in this year the company was incorporated and ever since it has been working to present the best-performing construction machines & equipment in the industry. Operating for about 19 years in the construction business, the company has managed to come up with market-leading technologies based on thorough research work. Today, the best construction equipment are developed and offered to its customers as the company serves as a manufacturer, supplier, trader, wholesaler and distributor.

The company has worked hard to develop innovative Bitumen Tank, Asphalt Hot Mix Plant, Bitumen Drum Decanter, Road Paver Finisher, Asphalt Batch Mix Plant, etc., that have made construction works easier and way more efficient than before. The production processes are streamlined with the help of advanced machinery and tools with manufactured products being tested at a quality control department to ensure they meet the required specifications. A variety of visual inspection testing methods, measuring devices, and test equipment are put to use for controlling and assuring quality of the range. As all the products are manufactured and tested in-house, it helps the company keep the product quality in check and also meet the deadlines on-time.

With the constant guidance and support of the Managing Director, Mr. Dipak Chaudhary, the company has been able to achieve great levels of success. He has always provided valuable feedback and suggestions for bettering the production, marketing and other operations of the firm. Overall, under his exemplary leadership and invaluable guidance, the firm has stayed ahead of business peers without much effort. Company location in the city of Mehsana, Gujarat, India, provides brand Kesar with a number of advantages, including access to a large pool of skilled workers, a business-friendly environment, and good connectivity to the rest of India. Looking for the best construction equipment? Look no further than the experts at Kesar Road Equipments (India).

Managing Director

Mr. Dipak Chaudhary is the Managing Director of the company and a successful business professional who is passionate about helping others reach their full potential. He has a wealth of knowledge and experience in the business world, and is committed to helping the employees grow and develop, both professionally and personally. He is someone they can trust and rely on for constant guidance and support. He is also a great listener and always provides thoughtful, insightful inputs to employees and clients.

Quality

The quality of construction equipment, tools and materials can have a significant impact on the overall quality of a construction project. Poorly manufactured or poorly maintained construction equipment can lead to accidents and project delays. However, Kesar Road Equipments is glad to offer high-quality and optimally-working construction equipment which can help avoid accidents or delays in projects. The quality parameters on which Kesar Bitumen Tank, Asphalt Hot Mix Plant, Bitumen Drum Decanter, Road Paver Finisher, Asphalt Batch Mix Plant, etc., are tested are as follows:

a)- Abrasion & corrosion resistance
b)- Accuracy
c)- Durability
d)- Easy maintenance
e)- Performance

Expertise

In countries like India, where developments have become a never-ending process, the construction industry is on the rise and gaining quite an importance. This pioneering sector plays a key role in the economic growth of the country and includes various companies like Kesar Road Equipments (India). With vast years of expertise in the construction industry, the company has been able to successfully help clients with their specific construction requirements. Today, the company has set its sights on becoming the leading provider of best construction equipment from the market of India.

Infrastructure

The company has always been able to produce a qualitative assortment of Bitumen Tank, Asphalt Hot Mix Plant, Bitumen Drum Decanter, Road Paver Finisher, Asphalt Batch Mix Plant, etc., with the help of its resilient infrastructure. The machines installed in its premises are upgraded on a regular basis to boost unhindered production works. The infrastructure is further manned by an expert team that lends efficiency to its various processes. Harnessing skills and experience of this team and best utilizing these equipment installed at its premises, the company maintains its track record of creating zero-defect products:

1. CNC machines
2. Hydraulic shearing machines
3. Hydraulic press brake machines
4. Lathe machines
5. Redial drill machines
6. Special purpose machines
7. Welding machines

Why Prefer Kesar Road Equipments (India) Pvt. Ltd.?

The key reasons that make Kesar Road Equipments (India) the most preferred name in the construction business is listed below:
1. Innovative Products- The construction equipment company provides quality-rich, innovative products that are designed to make construction works considerably more efficient than before.
2. Respect Towards Customers- Customers are important to the company and it always remains respectful and honest towards them.
3. Skillful Team- The team members hired by the company are always on the lookout for ways to increase productivity.
4. Best Price Guaranteed- The pricing policy is straightforward with product prices being quoted considering the best interest of clients.
Market Expansion

As a part of its expansion plans, the company aims to extend its reach in these markets:

1. Afghanistan
2. Iran
3. Iraq
4. Jordan
5. Oman
6. West Indies

Fact Sheet of Kesar Road Equipments (India) Pvt. Ltd.

| | |
| --- | --- |
| Nature of Business | Manufacturer, Supplier, Trader, Wholesaler and Distributor |
| Company Location | Mehsana, Gujarat, India |
| Director | Mr Dipak Chaudhary |
| Year of Establishment | 2003 |
| Annual Turnover | 22 Crore |
| No. of Employees | 25 |
| No. of Production Units | 01 |
| Original Equipment Manufacturer | Yes |
| Standard Certification | ISO 9001:2008 |
| GST No. | 24AAECK2494H1ZI |
| TAN No. | AHMK06455B |
| I.E. Code | NA |
| Warehousing Facility | NA |
Business Type
Exporter, Manufacturer, Distributor, Supplier, Trading Company, Wholesaler
Working Days
Friday To Wednesday
Payment Mode
Cash on Delivery (COD)
Certification
ISO 9001 : 2008
Seller Details
KESAR ROAD EQUIPMENTS ( INDIA ) PVT. LTD.
Managing Director
Mr Dipak Chaudhary
Member Since
12 Years
AddressView on Map
81-82, Nirmal industrial Park, G. I. D. C. At- Gozaria, Tal: Dist: Mehsana, Mehsana, Gujarat, 382825, India
Apollo Asphalt Plant In Tal: Dist: Mehsana