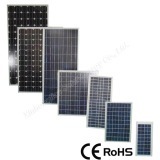 Solar Panels
Brand Name:
Shenzhen Xinghonglian Solar-Energy Co., Ltd.
Product Description
We are offering our customers a wide range of Solar Panels, which are available following Specifications :-
Item Name: Solar panels 250W
Item No.: XHLM250W
MONO or POLY: POLY
Maximum Power (Wp): 250W
Maximum Power Voltage (V): 35.2
Maximum Power Current (A): 7.39
Number of Cells (PCS): 72
Size of Module (mm): 1925*970*50MM
Temperature coefficients of Pm (%): -(0.5± 0.05)/degrees
Temperature coefficients of Isc (%): (0.065± 0.015)%/ dgrees
Temperature coefficients of Voc(%): -(0.3± 0.05)% degrees
Temperature Range: -40 degrees to +85 degrees
Tolerance Wattage (e. G. +/-5%): ± 5%
Surface Maximum Load Capacity: 60m/s(200kg/sq. M)
Allowable Hail Load: 227g steel ball fall down from 1m height
Weight per piece (kg): 26
Cell Efficiency (%):>16.5%
Frame (Material, Corners, etc. ): Aluminum
Standard Test Conditions: AM1.5 1000W/m2 25 degrees
Warranty: 2 years product warranty and 25 years 80% of power

Solar Cells Features :
Top solar cell conversion efficiency
Entrapping light through advanced textured solar cells in crystalline technology.
Unique esthetic appearance of cells
Outstanding energy output in low light conditions through high shunt resistance.
Contact Details
Other Products You May Like
TOP