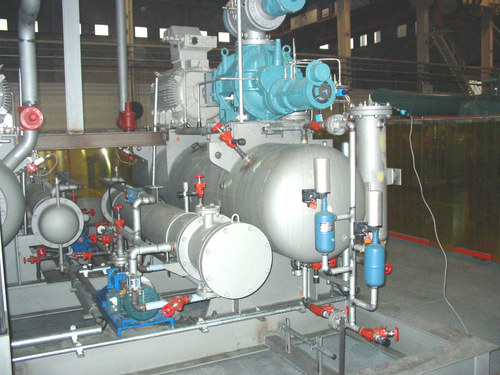 Refrigeration Plant Design And Supply
Brand Name:
CoolExpert Engineers
Product Description
Our Refrigeration Plant Design and Supply applications -
•Refrigeration plants for Dairy (milk & milk product storage) and Cold Storage for fruits, vegetables, meat and fish products
•Screw compressor packages for new plants and also for replacement of old reciprocating compressors for better management of plants
•Brine (Calcium Chloride, Ethylene Glycol, Propylene Glycol, Methanol, Ethanol or any other special fluid) Chilling Plants for Chemical, Pharmaceutical, Refinery and Petrochemical plants application
•Chlorine (Cl2) Liquefaction
•Carbon Dioxide (CO2) Liquefaction
•Refrigeration plants for Gas Compression, Storage / Handling systems
•& many more / any applications as required by customer.

Refrigeration System Design incorporates–
With single stage, multiple stage, cascade systems, booster systems.

Eco-friendly and natural Refrigerants -
R717 (Ammonia) / R22 / R23 / R134a / R290 (Propane) / R404a / R407c / R410a / R507 / R744 (CO2) / R1150 (Ethylene) /
R1270 (Propylene) / and many more……….

Other Important design services:
-Heat Load Calculations
-Heat Exchangers Designs
-Structural Analysis
-Pressure Vessel Sizing
-Plant Energy Audits
-Plant Health Checkups
-Capacity Expansion
-Control Philosophy & Instrument function
-Trouble shooting
-HAZOP Study
-Stress Analysis

Ancillary System Designs -
Oil Rectification System for maintaining Plant Design Capacity
Air Purger System for saving operating power of the Plant
Oil separation.
Contact Details
Other Products You May Like
TOP