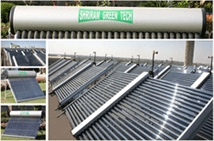 Solar Water Heating System
Brand Name:
Shriram Greentech India Limited
Product Description
These Solar Water Heating Systems can provide hot water using solar thermal energy for various applications in industrial, commercial and domestic sectors. The collector is kept normally on the roof top preferably facing south.

Working Principle of our Solar Water Heating Systems:

The solar water heating system works on the principle of thermosyphone process and forced circulation.

Evacuated tube acts as an absorber in the solar water heater. Each evacuated tube consists of two glass tubes having vacuum in between which is an excellent insulator. The incident solar radiation falling on the tube passes through the outer transparent tube and strikes the outer of inner tube. It absorbs heat energy and then passes to the cold water flowing in the tube. An evacuated tube technology based solar water heating system is most energy efficient and cost effective.


Contact Details
Other Products You May Like
TOP