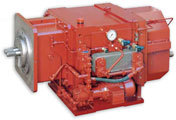 Gearboxes For Co-Rotating Twin-Screw Extruders For High Torque Transmission And High Output Speed
Brand Name:
ZAMBELLO RIDUTTORI GROUP
Product Description
New range of gearboxes for co-rotating twin-screw extruders for high torque transmission and high output speed. The increasing demand for higher performances coming from the manufacturers of co-rotating twin-screw extruders induced ZAMBELLO Riduttori to develop the new TST (Twin Super Torque) gearbox range. The new system of torque distribution has enabled us to increase considerably the output speed (up to 1800 rpm.) and also the density of the transmissible torque (up to 35 Nm/cm3). The TST gearboxes now available in our range start with a centre distance of 21.5 mm (TST 21,5/26 COR) and reach 90 mm (TST 90/112 COR). Bigger sizes are already planned. The gearboxes of this series have been developed by featuring excellent compactness. Also for this series the axial thrust is supported by an axial roller-type swivel thrust-bearing of the 294..e series, coupled with thrust bearings assembled in tandem. All these bearings are purchased from the first-class European manufacturers. Our gearboxes of the TST series are represented in Catalogue T1-05.
Contact Details
Other Products You May Like
TOP