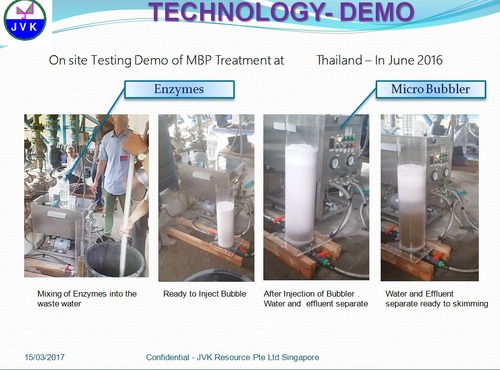 Mbp Waste Water System
Brand Name:
JVK RESOURCES PTE. LTD
Product Description
We export, distribute, trade and supply MBP Waste Water System to our customers in Singapore. The enzyme used in the MBP Water System was originally designed and developed by us and is unique in its nature. By adding the enzyme at the initial stage of the process, impurities and other chemicals present inside the water are decomposed leading to deterioration, meaning a large part of the process in eliminating the impurities in the water is conducted at this very first stage . After Treatment Water The microbubble technology used in the MBP Water System was also originally developed by CGE by enabling air-liquid multi-phase flow using specifically manufactured pressurized hydraulic lines and hence creating a compact, easy-to-use, micro bubble treatment machine. After Micro bubble , water and effluents separate , effluents skim of and dried using dryer. Out put Water quality is to recyclable.

Contact Details
Other Products You May Like
TOP