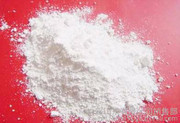 Alo Chemical
Brand Name:
GUANGZHOU SONGYI ADVANCED MATERIALS
Product Description
We manufacture a vast assortment of ALO Chemical to our customers in Guangzhou, Guangdong, China.

ALO is a fumed alumina of nano particle size, which offers:
1. In flourescent tubes and light bulbs as additive for a homogenous light emission, better flow ability of the fluorescent mix during the electrostatic coating
2. In powder coatings to improve charge ability, flow ability and anti-caking.
Contact Details
Other Products You May Like
TOP