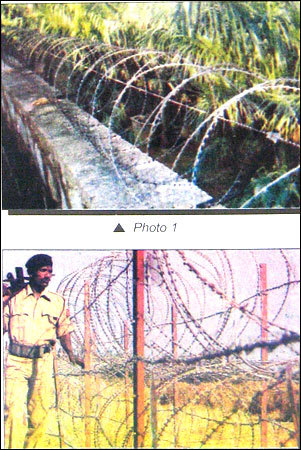 PUNCHED TAPE CONCERTINA COIL
Brand Name:
SUPREME TRADERS
Product Description
FEATURES :-
* REINFORCED BARBED TAPE ONCE GIVEN COIL SHAPE IT BECOME PUNCHED TAPE CONCERTICA COIL.
* EACH COIL IS PROVIDED WITH A PAIR OF HANDLES AND SPIKES ON EACH SIDES FOR EASY HANDLING AND LAYING.
* COILS ARE BEING SUPPLIED WITH SPECIAL ANTI RUSH BITUMINISED SPRAY WHICH INCREASES THE LIFE OF THE COIL AND DOES NOT REQUIRE ANY MAINTENANCE FOR YEARS TOGETHER EVEN IN ADVERSE CLIMATIC CONDITIONS.
* THE COIL WHICH CAN ALSO BE TAILOR MADE FOR SPECIAL PURPOSE IN 750 OR 600 mm DIAMETER IS BEST SUITED FOR MOUNTING ON BOUNDARY WALL OR EVEN ON TOP AS VERTICAL AS SHOWN IN PHOTO 1.
* TIMINGS : TIME TAKEN FOR 100 METRES OF FENCING IS JUST 40 MINUTES BY PUNCHED TAPE CONVERTINA COIL.
* THERE ARE 550 BARBS ON EACH TURN OF CONCERTINA COIL AS COMPARTED TO 200 BARBS FOR BARBED WIRE OF 3.32 mtrs. IN LENGTH.
Contact Details
Other Products You May Like
TOP