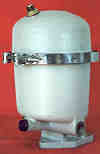 Centrifugal Oil Cleaners (Scc100)
Brand Name:
BHAGYASHREE ACCESSORIES PVT. LTD.
Product Description
Centrifugal Oil Cleaners (SCC100) is a state of the art centrifuge and is oldest in the range of centrifugal oil cleaners manufactured by our company. This centrifuge is suitable for engines having oil sump capacity between 50 liters to 150 liters. The dirt holding volume is 1 Liters. Over 1000 customers are reaping the benefit of increased oil and engine life by installing this filter on their engine. You will find this device as Original Fitment on engines manufactured by Kirloskar Oil engines Ltd. (WV10), Please go through the details and find out how you can get benefit by installing this centrifuge.
Contact Details
Other Products You May Like
TOP