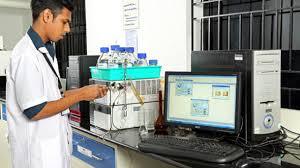 Food Testing
Brand Name:
puritytest .in
Product Description
Food Testing

Access to safe food and beverages is fundamental for all human life. Farmers, suppliers, food testing labs, manufacturers, regulators, and consumers are all worried about potential food and beverage contamination. But how can you test for food and beverage contamination and quality?

We deliver solutions to empower food scientists, producers, regulators, & technologists to test and protect our global food and beverage supply.

Whether you're analyzing for chemical contaminants or residues, or profiling food for allergen content or authenticity, our food and beverage testing solutions help, delivering reliable results with the fast turnaround times.

Our food and beverage testing solutions are optimized to identify and quantify hundreds of chemical contaminants and residues helping you to meet regulatory demands and to keep our food safe.
Contact Details
Other Products You May Like
TOP