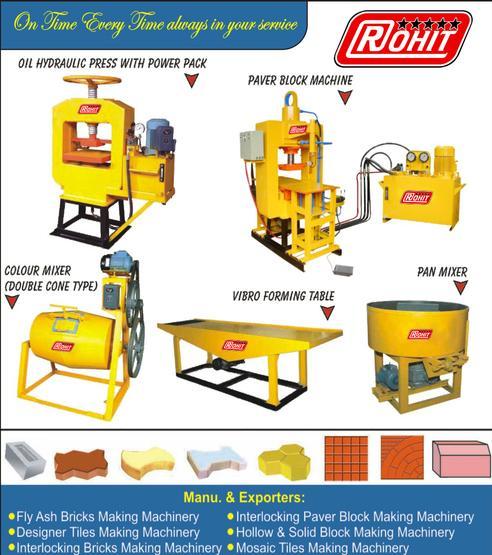 Paver Block Making Machinery
Brand Name:
ROHIT MACHINE TOOLS
Product Description
We are instrumental in providing to our valuable customers excellent quality Paver Block Making Machinery which is available with following Features:-
Maximum HighPressure Tonnage 70 & 90
Oil Cooling System Facilitate to Cool down Oil even Press is working.
Auto Stop.
Safe working conditions with electrical and mechanical interlock systems
Superior Vibration and Pressing systems for maximum compaction and strength
The Pressing operation is timer controlled with single switch operation for both pressing and return strokes ensuring uniform pressure on all sides of paver block.
Power Required : 6 HP.
Each Paver Machine can give production of 1800 to 2000 Nos. Paver Block in 1 Shift
Manufacturing Capacity : Paver Block 40mm to 100mm
Berb Stone 450mm x 300mm x 150mm
Railway Crossing Paver & container yard Paver
Oil Tank Capacity : 200 Litres
Machine Size : Press 150 cm x 135 cm x 245 cm
Power Pack 110 cm x 85 cm x 100 cm

Clients can avail this Paver Block Making Machinery at industry leading prices from us.
Contact Details
Other Products You May Like
TOP