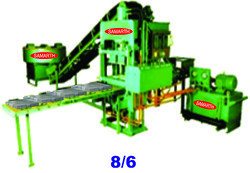 Fly Ash Brick Making Machine
Response Rate
0.00
Buyer Feedback
Brand Name:
SAMARTH HYDRAULIC GROUP
Product Description
Our organization offering of advanced Semi Automatic High Pressure Hopper Machine. We believe in innovation therefore our engineers are given best opportunities to innovate finest designs. Semi Automatic With High Pressure Machine offered by us is an extremely important and useful machine made in compliance with industrial standards. These machines offer higher efficiency and better quality. With below given features Semi Automatic Machine that we offer is available.

Fly Ash Brick:-

Standard, Brick Size- 230x110x75=8 Nos
Other Brick Size-230x150x80=6 Nos
Stoke (20 seconds 8 Bricks)
High Pressure of Machine 70 Tone
Power (Motor) 7.5 Hp for High Pressure of Machine
Oil Tank 200 litter Capacity.
3 Hp motor with vibrator.
2 Hp motor with conveyor belt

Semi Automatic With High Pressure Machine:-

No of 1 Pan Mixer With 7.5 Hp motor capacity of Raw Material Mixing, 500 Kgs Mfg Capacity 1500 per hour, Water Cooling 1 Hp Motor, 1 Mould Extra with Machine total power use all units use 21 Hp free fitting at your place (only in India) 1 year warranty.
Contact Details
Other Products You May Like
TOP