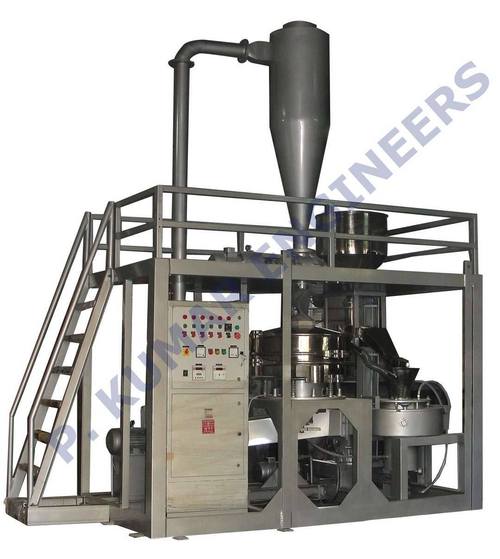 Pulverizers
Brand Name:
P. KUMAR ENGINEERS
Product Description
Following are the Main Features of Pulverizers :-
• Advanced designed Machine.
• Heavy and Sturdy Grinding Mill Body.
• Heavy Bearing hub with water cooling.
• Dynamically balanced grinding blades.
• High quality HCHC blade material for constant continuous more production.
• Specially designed serrations with special treatment on Grinding Discs to give more life, and higher grinding capacities , with minimum power consumption.
• Water Cooling system for stationary blade for better life.
• Powder quality obtained is ideally suited for rotational moulding process, with correct mesh size distribution and bulk density of the Pulverized powder.
• Dynamically balanced blower.
• Specially designed Vibratory Sieve , Cyclone and Hopper.
• Fully automatic electric control.
• Easy to maintain.
• We can also give specialized Pulverizing blades developed by us for your existing pulverisers, enabling you to get economical production from your existing equipments. This can be arranged if you give the details of your existing Pulverising disc with dimensions and other relevant details.
Contact Details
Other Products You May Like
TOP