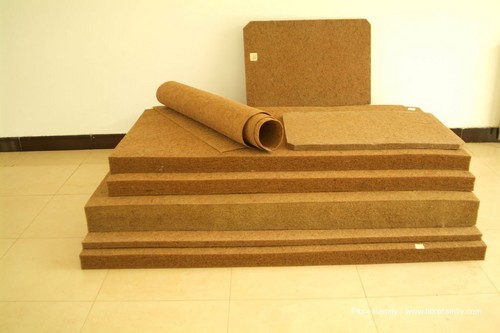 Rubberized Coir Sheets
Brand Name:
AADITH EXPORTS
Product Description
Our range of Rubberized Coir Sheets shall be manufactured using unretted coir fibre mechanically extracted and curled to effectively utilise the resiliency of the fibre material, the fibres being bonded to each other by vulcanised rubber to keep them in position, utilizing rubber latex containing compounding ingredients of such nature and quality that the finished products with the requirements of this specification.
Rubberized Coir Sheets shall be of a resilient nature and porous structure in the form of sheetings or in fabricated sheets. Any special characteristics other than those prescribed in this specification which may be desired for specific application shall be as agreed to between the purchaser and the supplier.
The Rubberized Coir Sheets shall present a uniform appearance through out the structure and shall not contain loose fibres or voids.
Due to manufacturing conditions, the material may have to be altered or repaired. The repaired or altered material shall be acceptable provided the material used in such repaires or alterations is of the same composition and quality as the original products and provided such alterations do not affect the requirements given in this specification. The odour of rubberized coir shall be as mild as possible and shall not be objectionable.
Contact Details
Other Products You May Like
TOP