A vehicle's gearbox is one of its most crucial parts. It is what transfers the engine's power to the wheels. There are several auto transmissions available. Some are automated, but stick-shift automobiles' manual gearboxes need additional driver actions for the vehicle to function correctly. Where is the gearbox found in a car? A gearbox is often attached to the front of a vehicle's chassis and depending on the kind of transmission, the procedure changes. Whatever kind of transmission that is, the ability to modify the gear ratio between that of the engine and drive wheels as the automobile slows down and accelerates is what a gearbox accomplishes.
The gearbox detaches the engine from the driving wheels when a vehicle comes to a halt just so the engine can run while the wheels are still. Additionally, transmissions allow for swift acceleration out of a standstill and for the engine to operate more slowly while the car moves at a constant pace to reduce wear.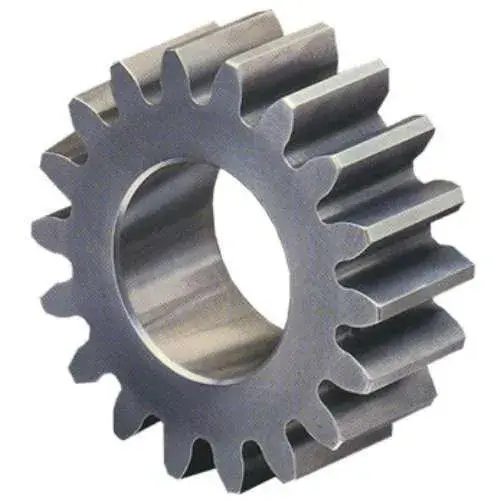 Silver Transmission Gear
Price: 150 INR
Minimum order quantity - 6 Piece/Pieces
View Product Details
What Functions a Manual Transmission?

The driver uses the shifter and clutch pedal in manual gearboxes to change the ratios manually. These transmissions' output and input shafts are a pair of shafts connected by a series of gears. What's the process of a manual transmission? A manual transmission gearbox driver must choose the appropriate equipment and activate or release the clutch. The clutch, pressure plate, and flywheel of the transmission are used to engage or disengage the engine.
The engine is linked to the pressure plate and flywheel. They are separated by the clutch and splined towards the beginning of the section. The pressure plate is released when you "push in the clutch," which separates the clutch from the engine. Every time you shift, you must first depress the clutch.
Here are a few different kinds of manual gearboxes.
Different Types of Manual Gearboxes

1. Dual-Clutch
There are two clutches in this transmission, and they can be dry or wet. The even gears are operated by one clutch (2, 4 and 6). The second clutch shifts the unusual gear (1, 3, 5 and reverse). Older automobiles frequently used dual-clutch gearboxes, which are still used in modern race cars. Modern dual-clutch automated manual gearboxes, also known as double-clutch or twin-clutch transmissions, bridge the gap between manual and automated transmission by using a computer to regulate clutch engagement and shifting.
2. Unsynchronised
The first manual gearboxes were "non-synchro" or out of sync. Because the gears were ground together by the drivers to mesh, they were also known as rock crushers. Because these gearboxes were so powerful, trucks continued utilising them into the early 1960s.
3. Constant/Synchronised Mesh
The main shaft, driving, and cluster gear are continuously in motion with synchronised/constant mesh transmissions. These transmissions slow down individual gears using pads. As a result, there is no longer a necessity for double-clutching.
4. Automated
An automated transmission, often known as an AMT, is a manual gearbox where a computer manages the clutch and shifting. Trucks that are heavy-duty employ the AMT.
5. Single-Clutch
A manual gearbox with a single clutch has a computer-controlled clutch and shifting system. Electric, hydraulic, or electrohydraulic controls are available for clutch and shifting. Due to dual-clutch transmissions' ability to manage more torque, single-clutch transmissions' appeal began to wane.
6. Preselector
Most often employed from the 1930s to the early 1950s, a preselector had been a manual gearbox with suction or hydraulic shift control. Some preselectors made use of planetary gears and bands. In essence, it switched to the designated forward gear the next moment the clutch was engaged.
7. Autonomous Transmissions
What is the process of an automatic transmission? The process that drives a manual gearbox happens outside of an automatic transmission, which is the primary distinction between an automatic and manual transmission. Clutches are often not used in automatic gearboxes. Instead, the automatic gearbox uses a torque converter to shift ratios.
Since the early 1900s, there has been some variation of the first automatic gearbox, which was more akin to a semi-automatic transmission since it still featured a clutch. The Hydro-Matic in a 1939 Oldsmobile for said 1940 model year was the first accurate automatic transmission installed in a production vehicle. Earl Avery Thompson created the invention. Large cars and SUVs often use conventional automatic transmission gearboxes.
Here are a few words that are frequently used about automatic gearboxes.
Two clutches in a direct-shift gearbox, often known as a DSG, disengage alternately while changing ratios. DSGs offer quick shifting and smooth acceleration.
Tiptronic: A Tiptronic gearbox enables manual shifting of an automatic transmission using the shifter and steering wheel controls. The disadvantage is that if the transmission deviates from the predetermined limits, the computer will overrule or refuse to enable manual mode.
The pressure/fluid within an automatic gearbox is called hydraulic.
How about electric automobiles? Single-gear transmission is employed by electric cars. Engineers may make use of small single-speed gearboxes to transmit power towards the drive wheels thanks to the drive train of electric motors. This may be bolted on or incorporated into the engine.
8. Transmissions with CVT
Pulley-based continuously variable gearboxes, sometimes CVTs, are frequently seen in tiny cars with compact engines. Snowmobiles, ATVs, and side-by-sides, to mention a few, have all long utilised CVTs. In hybrid automobiles they've gained popularity more lately. The basic configuration consists of a tiny main drive and an auxiliary oversized driven clutch connected by a belt or chain. At a standstill, the belting or chain will be positioned high in the auxiliary drive and low inside the primary drive. As you pick up speed, the belting or chain will walk up due to the main drive's contraction, while the chain or belt will walk down due to the secondary drive's expansion.
Top 10 Transmission Gear Manufacturers In India

1. Saggu Gears:
"Saggu Gears India" was established in 1992 and is one of the well-known companies involved in producing, selling, and exporting Gears, Gearboxes, and Machinery Spare Parts. Their organisation's primary goal is to create reliable items in terms of performance and quality. Due to its qualities, including longevity, high tensile strength, and corrosion resistance, our highly effective products are used in various industries.
2. Sumiko Enterprises:
They can deliver our items on time because of our extensive distribution network that spans 10 Indian cities. They regularly update our goods following technical breakthroughs to guarantee 100% client pleasure.
3. Gears And Gear Drives India:
A global engineering company called Gears & Gear Drives (India) Pvt Ltd has been offering complete technological solutions from design to production for more than 30 years in transmission systems, systems engineering, motion control, and automation. Actuators from this manufacturer are used in various applications, including lifting platforms, industrial automation, solar tracking, material handling, agricultural, and defense.
4. M Mestry Enterprises:
One of the best gear manufacturers in Mumbai, India, M Mestry Enterprises, bases its development method on innovation and evolution. We provide a large selection of gears to meet your unique needs because we have been involved in the dynamic world of gear production for more than ten years. As customer-focused gear manufacturers, we ensure that our goods are designed using the most current production techniques to give our customers the best gear.
5. Shanthi Gears Limited:
They are a company that offers industrial gearing solutions. We develop and produce gears, gearboxes, gear motors, and gear assemblies using our modern, integrated manufacturing facilities.
6. Top Gear Transmissions:
Welcome to the Leading Gear Technology website at Top Gear Transmissions. Since its founding in 2000, they have improved its standing as a one-stop shop for all transmission requirements across various industrial areas. They are regarded as the world's top supplier of transmission products.
7. New Delta Gear Manufacturers Private Limited:
New Delta Gear is a well-known maker of gears and related parts, including crankshafts, racks, and sprockets. Heavy, medium, and light duty requirements, including earthmovers, trucks, power equipment, turbines, and agricultural engines, are all suited for our products.
8. Bevel Gears India Pvt. Ltd:
The Jamal Group of Companies includes Bevel Gears (India) Pvt. Ltd. Bevel Gears India (BGI) produces our industrial gears, while Karnataka Machine Tools (KMT) produces them for export.
9. Precision Gear Manufacturing Company:
Transprecision Gears Pvt. Ltd. are a privately registered, ISO-certified manufacturing unit of industrial components. We began operations in 1996. The company's head office is situated in M.I.D.C., Bhosari, Pune, with three independent units for multiple manufacturing tasks in gear teeth chopping, assembly, and fabrication.
10. Gears India:
Gears India has been in business for the last 35 years and has since provided the industry with services. Precision gears, customised gears, and gear boxes are our areas of expertise.
One of the most common ways that machines transmit mechanical power is through gears. The efficiency of power transfer via the bags is approximately 100%. The real benefit of gear train transmission networks is that the packs cannot slip since the teeth on each gear mesh with another gear in the train. (A precise ratio is kept.) It is possible to transfer strong forces. A gear's number of turns can be readily managed.
FAQs: Transmission Gear

Q. Which machining technique is employed in the production of transmission gears?
Ans. CNC machining is used to manufacture gears with high precision and accuracy. An expert machinist performs this technique typically.
Q. How are transmission gears made using forging?
Ans. Forging is a practical procedure whenever the gear construction has a somewhat basic configuration. Steel ingots are formed, sized down, and then forged into the proper shape to create forged gears.

Related Blog Topics: