The evolving landscape of the industrial and commercial infrastructural sectors has increased demands for efficient and reliable logistics management of goods. To optimise and streamline the vertical lifting of different types of material, goods lifts play a crucial role across various industries.
India has become a hub for leading goods lift manufacturers, catering to the varied needs of residential, commercial, and industrial sectors. With the advancement of technology, various manufacturing units have come forward for shaping the future of goods lifting processes. Among the key goods lifts suppliers in India, selecting the best one is a tough task. A thorough research is needed for aligning the specific operational requirements. To make you able to select efficient manufacturer, this blog provides a list.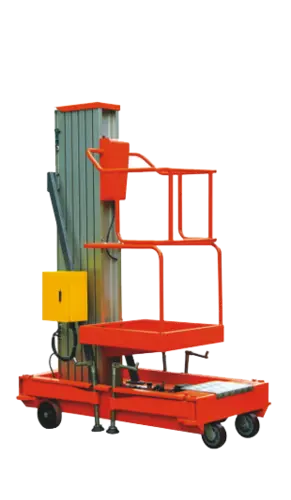 Dual Mast Goods Lift Lifting Capacity: As Per Requirement Tonne
VIEW PRODUCT DETAILS
Top 10 popular goods lift manufacturers in India
KONE Elevator India Pvt. Ltd.:
The company was founded in the year 1910 as one of the leading goods lifts manufacturers in India. Its head office is in Chennai, India and manufacturing unit is in Ayanambakkam, Chennai. With two manufacturing units: a car and door factory and an electrification factory, it ensures to design high-end elevator components, controllers, signalization, etc. It has more than 4800 employees. In addition, it has regional offices in four major cities in India enabling it delivering high-technology goods across the country.
Otis Elevator Company (India) Ltd.:
This prominent company is a leader in the market, specializing in technologically advanced goods lifts. With a history of being at the forefront of elevator technology, they offer unmatched designs and cutting-edge solutions. Their goods lifts are designed to withstand heavy usage and provide superior solutions for various industry needs. From researching, concept designing, development, testing to delivery, every single process is carried out as per the global quality norms to provide the best.    
Thyssenkrupp Elevator (India) Pvt. Ltd.:
Thyssenkrupp is reckoned in the market for its state-of-the-art elevator technology. It provides unmatched quality goods lifts designed with intelligent systems. The company was established in 1989 in Germany for designing high-end goods lifts with unique engineering, designs, and technologies.
Mitsubishi Elevator India Private Limited:
Mitsubishi Elevator India Private Limited has a high-tech headquarter in Gurgaon, Haryana for offeringhigh-quality goods lifts. With uniquedesigns, precise engineering, and technological advancements, its goods lifts are sure to optimize space utilization and boost productivity.
Schindler India Pvt. Ltd.:
Schindler India Pvt. Ltd. emphasizeson creative thinking, innovation, and technology. They have been providing exceptional goods lifts that offer excellent operational efficiency for over 20 years. As a pioneer in the industry, Schindler has established manufacturing units for elevators in India, becoming the first multinational company to do so. They also have a state-of-the-art research and development center as well as Schindler University located in Pune, India.
Johnson Lifts Pvt. Ltd.
Based in Chennai, India, Johnson Lifts Pvt. Ltd. is a well-known dealer of goods lifts in the country. Established in 1963, the company has gained extensive experience over the past six decades and has expanded its operations to more than seven countries. With two manufacturing factories located in Chennai and Nagpur, they ensure a significant production capacity of over 16,000 lifts and 1,000 escalators. The company has a dedicated workforce of more than 9,000 employees and operates through 80 branches and 184 service centers nationwide to install their products across India an impressive total of approximately 125,000 units installed to date.
Omega Elevators:
With a major presence across the country, the company has set a benchmark in the domain of goods lifts and elevators. Its creative and advanced lifts are playing a major role in the urbanisation of India's landscape. With a high-tech production base, skilled engineers, and matchless expertise, the company has been providing secure and modern solutions for escalators.
Escon Elevators Pvt. Ltd.:
The company is one of the prime goods lift suppliers in India, founded in 1990 with a head office in Mumbai. It has become one of the premier providers of customised lift solutions, catering to the needs of government and private organisations. It has been offering unmatched lifts to meet specific industrial needs, making it the perfect choice for everyone.
Expedite Automation LLP:
Located in Southwest Delhi, the company is a trusted manufacturer of high-end goods lifts and elevators. It creates matchless products admired for their high performance, advanced technology, and efficient designs. This reliable player in the goods lift manufacturing sector creates heavy-duty products for different applications, offering exceptional performance, durability, and long-term efficacy.
Future Industries Pvt. Ltd.:
The company has made its mark in the domain of goods lift owing to a well-equipped production base, a focus on quality, and ethical business policies. It has years of expertise and experience in creating efficient goods lifts, material handling, and logistics products for various applications and industries. Since 2008, it has been offering creative solutions for transporting goods in different sectors and domains.
These manufacturers of goods lifts have gained a reckoned position in the global market by offering technically-sound and affordable goods lifting and moving solutions. Their expertise and modern technologies of production make them the prime choice of everyone in the market. These manufacturers and suppliers follow the latest trends to create innovative solutions with advanced features and high efficiency level. You can choose the best supplier of good lift from the above manufacturing companies and meet your needs with perfection.
FAQs: Goods lifts
Q. What is a goods lift, and what is the difference between goods lifts and passenger lifts?
A goods lift is used for speedy and safe movement of goods between different floors of manufacturing plants, commercial establishments, warehousing units, and residential complexes.
Difference Between Goods Lift and Passenger Lift:
Equipped with anti-skid flooring and reinforced doors, goods lift is used for transporting cargo. Passenger lift is used to transport individuals between the floors, hence, it comes with emergency brakes and fire-resistant materials. It has buttons, emergency alarms, and mirrors.
Goods lift can easily manage heavy loads owing to its matchless higher weight-bearing capacity. It is available to accommodate various cargo dimensions as it is designed as per the rules, regulations safety codes for cargo transportation. On the other hand, passenger lift is designed according to the regulations focused on passenger safety such as cabin size requirements and emergency evacuation procedures.
Q. What are the weight and size limitations of a typical goods lift?
Ans. Weight: From 500 kilograms to 5 tonnes. Size: 1.5 m x 1.5 m x 2.0 m for a small lift and 3 m x 3 m x 2.5 m for a big lift.
Q. Are there different types of cargo lifts available, and how do they differ in functionality?
Industrial Goods Lifts are designed for heavy-duty applications in manufacturing or warehousing sectors.
Pallet Lifts are available with open platforms for accommodating pallet jacks or forklifts in warehouses, production units, distribution centres, etc.
Dumbwaiters are small-scale goods lifts ideal for transporting different types of goods like food, dishes, and laundry between different floors. This reduces the need for labour.
Commercial Goods Lifts are ideal for businesses looking for smart and cost-efficient transportation of goods within the premises.
Hydraulic Goods Lifts are used for lifting heavy loads with hydraulic power.
Traction Goods Lifts are available with electric traction system for moving vertically.
Residential Goods Lifts provide unmatched convenience of moving items between floors.
Scissor Lifts are available with efficient lifting mechanisms and crisscrossing support for moving goods at different levels.
Q. Can goods lifts be installed in various settings, such as warehouses or commercial buildings?
Ans. Yes, goods lifts can be easily installed in various settings and at any location for efficient movement of goods. These versatile solutions are widely used in warehousing units and distribution centres for minimizing the manual labour and enhancing the efficiency of material handling operations.
Are there any specific safety regulations or guidelines for the operation of goods lifts?
Yes, there are some specific safety regulations or guidelines for the operation of goods lifts. Following is the list of the regulations that ensure the utmost safety and security of users:
Emergency features like alarm buttons, backup power sources, etc.
Safety interlocks and door systems
Occupational Safety and Health Administration (OSHA).
European Union Directives.
National Building Codes.
Load Limits and Certification.
Fire safety regulations.
EXPLORE MORE: