The beverage packaging industry is growing at the same time that new types of alcoholic and nonalcoholic drinks are being produced. The glass container no longer holds a dominant position in the market for fruit juice bottles.
Containers made of metal, plastic, and paper are slowly but surely taking over the market. The design of pop can, which is used for carbonated drinks, has become a design classic. PET bottles, which are used for mineral water, are available in a variety of shapes and volumes, and the use of a 2-litre package for catering has become popular recently.
The Best Juice Bottles for Your Daily Routine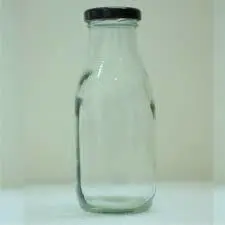 1. Miniature Mart Glass Bottle
Although they seem like classic milk bottles, these huge bottles are versatile enough to hold anything from fresh cow's milk to handmade nut milks to freshly squeezed juices to smoothies to water. A colourful airtight metal lid lined with plastisol helps keep contents fresh.
Dried goods, fermented and preserved produce, Keep canned goods, and grains (pasta oats, rice, and beans) in the pantry. Keep office supplies, art materials, and miscellaneous goods in a rustic warehouse. These chic jars are perfect for storing salad dressing and other ingredients for a backyard barbecue.
preserving homemade fruit juice bottle in jars, transporting your smooth everywhere you go and filling it with whatever beverage you like whenever you like, the  screw-on lids prevent spills and keep drinks fresh for longer; use them for any occasion, from picnics and weeding's to party favours. There will be no ants, zero wasted space and zero leaks.
2. All about jucing Juice Bottles
Put this glass juice bottle in your bag so you can start your day off well with a nutritious beverage such a juice, smoothie, or water that has been flavoured with fruit. It's entirely airtight, so your beverage will stay nice and fresh without you having to worry about it spilling.
You can brew hot tea and coffee directly in the water bottle, or you can prepare cold drinks like as smoothness, juices, infused waters, iced coffees, nut milks, kombucha, and iced tea for a convenient grab-and-go option. Smoothies, juices, protein shakes, and ice can all be easily poured from and stored in the large mouth hole of this healthy beverage container.
The smoothie bottle with the wide-mouth opening works wonderfully for making extremely thick smoothies, ice cubes and frozen shakes. Drinks may be mixed directly in the bottle, juices can be added without mess, and ice can be easily added. Ideal for making fruit-flavoured water because the fruit chunks won't get stuck in the infuser.
Glass is the most hygienic and risk-free container option for beverages due to its inability to leach chemicals, take on scents, or become stained like plastic does. a pure drinking experience is guaranteed thanks to the use of borosilicate glass and stainless steel caps, both of which are of the highest quality.
3. Kholad Glass Tumbler
400 millilitres of adorably illustrated, storage space, with an easily readable scale. A glass tumbler with a handle makes it pleasant and convenient to use, and it can be applied to anyone. It has an airtight seal and is leak proof thanks to the juice bottle manufacturers, so there is no need to worry about spills.
3.5-inch cup diameter, which allows your hand to easily reach the bottom, which makes the inside cleaning very convenient and makes it recommended to wash by hand. The large hole makes it simple to both add ice cubes and refill the container.
A glass tumbler cup lined with silicone mats and accompanied with two reusable straws made of food-grade silicone will facilitate simple drinking. You may also remove the cap and drink from the container straight.
Appropriate for use with milkshakes, water, milk, coffee, smoothies, juice, and iced tea as well as other beverages. The fact that this straw cup is made of lead-free borosilicate glass and can endure immediate temperature changes ranging from -20 degrees Fahrenheit to 200 degrees Fahrenheit makes it completely safe for use in a microwave oven as well as a refrigerator.
4. Lucid Hygienic Leak Proof Beverage Glass Bottle
Clear and simple to clean with regular water, a hand cloth, and a brush the second unique characteristic of this water bottle is that it has a golden-collared cap, rust-proof, airtight, that will provide you the healthiest possible sipping experience. Airtight and made of heavy gauge material, which gives it a solid construction.
5. U- Grow  Borocilicate Wide Neck Glass Bottle
Don't be afraid to let it all outthis glass bottle has a special construction that makes it leak-proof, so your beverage won't get all over the place. 100 percent free of harmful toxins perfectly transparent glass bottle is 100 percent free of harmful toxins,the mango juice bottle does not leave any residue behind in your beverage, and also maintains its freshness.
No scratch, no leftover flavours, no scents protectyou from the heat more effectively than with an insulation thermal bottle glass that is available on the market. It will not slide about, and it can withstand high temperatures. Not only does the cover of premium quality provide a stronger grip, but it also helps protect the bottle from shattering in the event that it is dropped.
6. Cello H2O Glass Fridge Water Bottle
BPA-free and durable soda lime glass bottle with food-grade certification plastic cap that is see-through and will last you a long time. The glass is environmentally friendly and does not release any toxins into the environment. The bottle does not absorb odours over time and maintains the freshness and cleanliness of the contents for an extended period of time.
The stylish and practical glass container, ideal for transporting and storing water and all of your other beverages of choice. The bottle is guaranteed to keep you hydrated throughout the year because it is manufactured in India using high-grade components. The bottle is light and compact, and it is meant to have a strong grip in addition to fitting precisely into the pocket that is in the door of the refrigerator.
7. Pasabahce Basic Glass Juice Bottle
Pasabahce Cam has a large customer base because of the breadth of their product offering (1,100 different items, with exports to nearly 15 different countries. love mark for turkey Customers feel a personal connection to pasabahce because of the brand's status as a sign of quality and trust. Aiming to "place pasabhceon every table in the world," the brand is looking to expand internationally.
Pasabahce glass juice bottles for liquids 14 millilitres one-piece, 1% transparency, airtight wooden cap, wobble-free construction, BPA-free food-grade plastic, and safe for the freezer.
8. Generic  Water and juice glass bottle
Green and dedicated to preserving India's delicate ecosystems. Since the glass container can be used more than once, the daily trash of disposable plastic bottles can be avoided. If you're looking for a better way to keep your food and other kitchen supplies, you may always switch from plastic to glass containers.
Choose plastic-free glass bottles that can withstand the freezer to store your milk, juice, and water. Safe for the environment, with a firm will to safeguard India's precarious natural resources. Because the glass container can be used more than once, it reduces the need to throw away disposable plastic bottles.
9. Cloudmart Glass Water Bottle
The stainless steel screw on lids ensures that airtight bottles will not leak or cause any spills. slip into your briefcase, gym bag, or handbag; store in your car, office, ordesk. Leak-proof, Top-tier, food-grade glass water bottle is not a plastic bottles, chemical free, and good for the environment.
Glass contains no toxins or anything that could alter the flavour of the liquid contained within it. Moreover, it has positive effects on the natural world.
Sleek and fashionable serving bottles not only are they convenient to transport, but they are also aesthetically pleasing enough to use for placing beverages on a party buffet, kitchen counter, or dining room table.
10. Pfure Solution Glass Bottle
The red metal cap is rustproof and airtight, making the bottle perfect for storing any liquid. Normal tap water and no metal utensils are required for washing. Glass container, 500 ml capacity; 6 count each packet. Because it's obvious what's inside the bottle thanks to its transparency. It's safe and sanitary to store your product in this bottle.
Beverages can be made ahead of time with juice bottles, which is convenient if you run a food service business. Juices can be made in bulk and stored safely to keep their quality. This saves time and effort that would otherwise be required to make juice and clean the equipment multiple times a day.
FAQs: Juice Bottles
Q. What are some tips for Keeping Your Juice Fresh in Your Bottle?
Ans. Your juice should be kept in the fridge for up to 72 hours in an airtight container for 24 to 48 hours. We recommend freezing juices if you need to keep them for a longer period of time.
Q. How to Choose the Right Size Juice Bottle for Your Needs
Ans. Here are the considerations:
Manufacturing Certifications
HPP Compatibility
Material: Plastic or Glass
Manufacturing Redundancy
Q. What is the best Juice Bottle Brands in india?
Ans. The best juice bottle brands are Tropicana, Patanjali, B Natural, Lucid, Miniature Mart etc.
Related Blog: