The demand for doors is rapidly increasing. Every facility, from businesses to residences, has a very common thing to be seen and that would be doors. As a result, it's no news that the door manufacturing industry is thriving. Doors need a lengthy manufacturing procedure, particularly when they are specially designed for their customers. Because a well-fitting door enhances the appearance of a home, folks prefer to have it specially made.
To prevent making any mistakes while buying a door, look over this list of the best door design manufacturers in India.
Top Door Design Manufacturing Companies in India

1. Mangalam Timber Products Limited
Mangalam Timbers has some of the most exquisite wooden door designs, closets, cupboards, and cooking facilities on the market. Tropical timber, wood waste, and agricultural residues are used in their manufacture, and they take a holistic approach. They have also established themselves as one of India's greatest door manufacturers, but they have also increased their reach throughout the country. In today's world, a Mangalam Timber outlet may be easily found in one's neighbourhood. Some of the products which are manufactured are Pre-laminated Interior Grade MDF, Plain Interior Grade MDF, Pre- laminated Exterior Grade MDF, and Plain Exterior Grade MDF. The company is situated on 9/1, R. N. Mukherjee Road, 10th Floor, Kolkata, West Bengal.
2. Greenply
Greenply was created in 1990 and currently is one of the leading door makers for hardwood doors. Greenply creates specially customized door designs to meet the needs of its clients, and wood is one of the greatest choices for entryways. One of Greenply's products called flush doors are one of the greatest options available. Why would the client want to go with Greenply? Their product flush doors have a high sense of stability, durability, and weather resistance, making them suited for a variety of seasonal changes.
What distinguishes them from those other door design manufacturers is their development plans. To promote farm forestry, the organisation has also implemented a responsible farmland management strategy. They are inexpensive, although they are one of India's most popular door brands. They are making the effort to educate the public about the benefits of wild timber. Some of their products include Green Doors, Green Gold Doors, Optima G SWF Doors, Green Club Doors, and Ecotec Doors. The corporate office is in Madgul Lounge, 5th & 6th Floor, 23 Chetla Central Road, Kolkata – 700027, West Bengal.
3. Durian Furniture
Durian's line of products includes a wide range of door frames and door designs that can be tailored to fit your specific requirements. Durian is among some of India's top door designers, offering surface options, with about forty-plus years of experience in the industry. Durian's strengths come from its service/quality offers, as well as its industrial output, distribution system, brand equity, and, most significantly, its young and enthusiastic staff of professionals.
They have nine manufacturing sites, supplying items both domestically and internationally to over 14 nations. Their products meet the Forestry Stewardship Council's guidelines and are ecologically responsible, thanks to stringent quality measures at all stages of production. Some of the products manufactured by this door-making company would be Laminated Moulded Panel Doors, Solid Wooden Door Designs, Flush Doors, Moulded Panel Doors, and Solid Moulded Panel Doors.
Also Read: Top Quality 15 Best Door Manufacturers, Suppliers & Exporters in India
4. Century Plywood
CenturyPly is a name that arises in one's mind while one thinks about finding some of the best door manufacturers in India. The company was founded in Kolkata in 1982. With their high-quality plywoods, they have grown to become one of the very renowned and most outstanding door makers over the decades. These doors are crafted to blend in with the house's interiors as well as its exteriors. The focus of the users will be drawn to the residence if it has a classy entrance. CenturyPly Plywood is used to make a variety of doors, which is one of the major motives for choosing them. As a result, those in need of residential or profit-oriented property doors may always count on CenturyPly Plywood. Some of the products which they offer are Melamine Door Skin, Bond Doors, Club Prime Doors, Flush Doors, and Veneer Doors. The CenturyPly production complex is at Century Plyboards ISO 9002 plant located at Bishnupur near Joka, Kolkata.
5. Deceuninck India
One of the very well-known names in the world is Deceuninck when it comes to door manufacturers. It produces a broad range of uPVC profiles and window products. Deceuninck India offers a comprehensive range of coloured uPVC and white profiles for new projects and upgrades. In India, there are 40 authorised distribution outlets that service clients. With superior thermal insulation materials, tight security, and a pleasant colour scheme, Deceuninck PVC doors, and windows are developed for energy saving and ease. The company's outputs are low-maintenance, sustainable, and ensure to keep their attractiveness over time, improving the aesthetic quality of the spaces where they are put. The products which are rolled out of this company are UPVC Door Systems, UPVC Window Systems, and UPVC Window Systems. The location of these door manufacturers is Paramahansa Yogananda Rd, Appareddipalya, Indiranagar, Bengaluru, and Karnataka.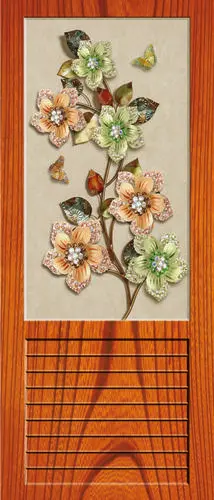 Multicolor Flowers Design Door
Minimum order quantity - As per customer Square Foot/Square Foots
View Product Details
6. Shatabdi doors
Shatabdi doors are designed with high standards of selective seasoned wood, which makes them extremely durable. Shatabdi understands the significance of doors in construction projects. As a result, they make every effort to give you one of the most durable and attractive wooden door designs available. These doors are built to fit everyone's demands and expectations while maintaining the greatest level of excellence. Shatabdis' creative sensibility has aided them in establishing a respected brand in the fiercely competitive plywood industry. The organisation is supported by a team of extremely knowledgeable professionals. Their developers and other support personnel are knowledgeable about the production process, which helps them produce the best water-resistant wood. The company deals with manufacturing products such as Readymade Polished Doors, Single-Core Pine Flush Doors, and Shatabdi Premium Double Core Flush Door.
7. Mikasa Doors
Mikasa Doors has developed itself into being one of India's largest and most reputable door producers. They are well-known for their extensive selection of door and door accessories. They assist in meeting consumer needs by developing various door frames. In contrast, there's a high chance that the doors won't be put correctly at first whereas Mikasa Doors eases the process by making ready-to-install doors, that help to prevent breakage even after they've been manufactured.
Mikasa offers a diverse selection of paints, laminates, and veneers that complement the doors. This door design manufacturer has a large choice of accessories to suit the interior decoration of the client's home, in addition to doors. Furthermore, they assist in the creation of high-quality designs that provide them an advantage over their competitors. The company focuses on bringing out products like double wood doors, non-fire rated doors, fire-rated doors, specialty door sets, and single wood doors.
8. Rehau India Pvt. Ltd
Rehau India Pvt. Ltd is a subsidiary of Rehau, a German-based uPVC window and door producer best known for introducing uPVC products to the UK. It creates one-of-a-kind goods by combining the best of German innovation with British production processes. Rehau's doors strike a balance between form and function. Their uPVC window installations and doors are only offered through a carefully curated team of artists and technicians to ensure the highest quality standards. Rehau is known for using cutting-edge technologies to create more environment-conscious homes. Rehau India Pvt.Ltd manufactures and produces products such as Flooring Solutions, Storage Solutions, Plinth Systems, Weaving Materials, uPVC Edgebands, Solid Surface, and Surface Solutions. The company is in Shatabdi Ply 84/54, Jareeb Chowki, Darshan Purwa, Kanpur, Uttar Pradesh.
While picking the correct door makers for your home or hotel, make sure they are experts in everything they do. The proper integration into choosing every element of making the door will have a big impact on how everything lines up. Hope this article has helped in getting the ultimate idea about the various door design manufacturers in India.

FAQs: Door Designs

Q. What are the materials used to make a door?
Ans: Wood, steel, fibreglass, UPVC/vinyl, composite, glass (patio doors), aluminium, and other materials are used to manufacture new external doors. Wooden doors, especially solid wood doors, are a popular choice among many homeowners, owing to the natural beauty of wood.
Q. What is the greatest sort of door for a bedroom?
Ans: After looking for the best bedroom doors, keep in mind your budget, floor space, sound insulation requirements, and your personal preferences. For master suites, more opulent types such as barns or French doors are ideal. Smaller bedrooms benefit from the regular flush or panel doors.
Q. What is an MDF door, exactly?
Ans: MDF is a type of engineered wood that is made of compacted wood fibres that have been resin-bound together. MDF doors outperform natural wood doors in painted applications due to their sturdy and homogeneous construction, which resists warping, splitting, and cracking.
Q. What are the most common interior doors?
Ans: Doors with hinges. As of now, this could be the most common type of door found in today's homes. They are the most basic of all types. One side of the door has hinges that allow it to glide open and close. The hinges could be on whichever side of the door to allow for correct mobility depending on the room's entering method.
Related Blog Topics: